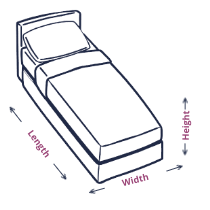 | Size | Width (mm) | Length (mm) | Height (mm) | Headboard Height (mm) |
| --- | --- | --- | --- | --- |
| Small Single Divan Bed | 2 feet 6 inches / 75cm | 6 feet 3 inches / 190cm | 35.5cm | 80cm (32") / 137cm (54") |
| Single Divan Bed | 3 feet / 90cm | 6 feet 3 inches / 190cm | 35.5cm | 80cm (32") / 137cm (54") |
| Small Double Divan Bed | 4 feet / 120cm | 6 feet 3 inches / 190cm | 35.5cm | 80cm (32") / 137cm (54") |
| Double Divan Bed | 4 feet 6 inches / 135cm | 6 feet 3 inches / 190cm | 35.5cm | 80cm (32") / 137cm (54") |
| King Size Divan Bed | 5 feet / 150cm | 6 feet 6 inches / 200cm | 35.5cm | 80cm (32") / 137cm (54") |
| Super King Size Divan Bed | 6 feet / 180cm | 6 feet 6 inches / 200cm | 35.5cm | 80cm (32") / 137cm (54") |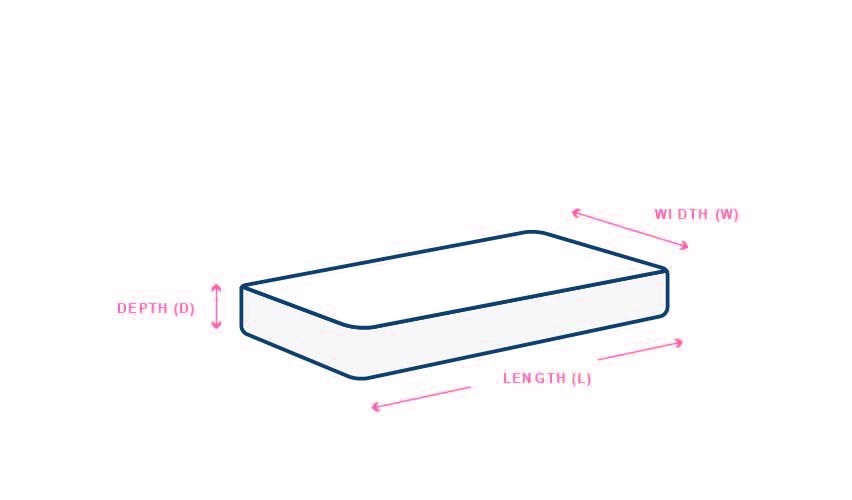 | Size | Width (mm) | Length (mm) |
| --- | --- | --- |
| Small Single Mattress | 2 feet 6 inches / 75cm | 6 feet 3 inches / 190cm |
| Single Mattress | 3 feet / 90cm | 6 feet 3 inches / 190cm |
| Small Double Mattress | 4 feet / 120cm | 6 feet 3 inches / 190cm |
| Double Mattress | 4 feet 6 inches / 135cm | 6 feet 3 inches / 190cm |
| King Size Mattress | 5 feet / 150cm | 6 feet 6 inches / 200cm |
| Super King Size Mattress | 6 feet / 180cm | 6 feet 6 inches / 200cm |
The Carlton divan is upholstered with plush velvet in a variety of colours and comes with a divan base in the size and storage of your choice. You can choose either no headboard, 32in strutted or 54in floor standing headboard.
This divan bed is available in the following sizes; 2FT6 Small Single, 3FT Single, 4FT Small Double, 4FT6 Double, 5FT King, 6FT Super King.
Storage options include no drawers, 2 drawers on same side, 2 drawers on opposite sides, 4 drawers, end opening ottoman and side opening ottoman.
Colours

Blue Beds
Cream / Browns Bed
Grey Beds
Other Colours Beds
Pink Beds
White Beds

Bed Size

Double Size Beds
King Size Beds
Single Size Beds
Small Double Beds
Small Single Beds
Super King Size Beds

Fabric

Chenille Fabric
Linen Fabric
Plush / Velvet
Suede Fabric
Wool Fabric
Does the job
Just the bottom part of the bed to replace sons broken slat bed. Does the job
Customers who bought this product also bought: