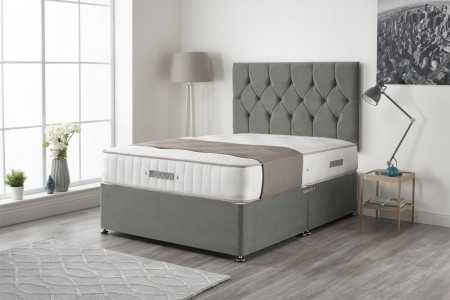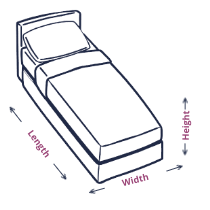 | Size | Width (mm) | Length (mm) | Height (mm) | Headboard Height (mm) |
| --- | --- | --- | --- | --- |
| Small Single Divan Bed | 2 feet 6 inches / 75cm | 6 feet 3 inches / 190cm | 35.5cm | 80cm (32") / 137cm (54") |
| Single Divan Bed | 3 feet / 90cm | 6 feet 3 inches / 190cm | 35.5cm | 80cm (32") / 137cm (54") |
| Small Double Divan Bed | 4 feet / 120cm | 6 feet 3 inches / 190cm | 35.5cm | 80cm (32") / 137cm (54") |
| Double Divan Bed | 4 feet 6 inches / 135cm | 6 feet 3 inches / 190cm | 35.5cm | 80cm (32") / 137cm (54") |
| King Size Divan Bed | 5 feet / 150cm | 6 feet 6 inches / 200cm | 35.5cm | 80cm (32") / 137cm (54") |
| Super King Size Divan Bed | 6 feet / 180cm | 6 feet 6 inches / 200cm | 35.5cm | 80cm (32") / 137cm (54") |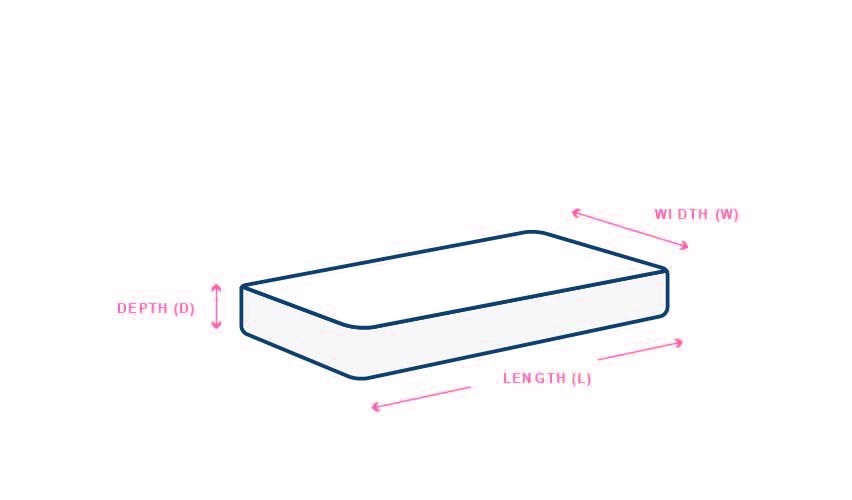 | Size | Width (mm) | Length (mm) |
| --- | --- | --- |
| Small Single Mattress | 2 feet 6 inches / 75cm | 6 feet 3 inches / 190cm |
| Single Mattress | 3 feet / 90cm | 6 feet 3 inches / 190cm |
| Small Double Mattress | 4 feet / 120cm | 6 feet 3 inches / 190cm |
| Double Mattress | 4 feet 6 inches / 135cm | 6 feet 3 inches / 190cm |
| King Size Mattress | 5 feet / 150cm | 6 feet 6 inches / 200cm |
| Super King Size Mattress | 6 feet / 180cm | 6 feet 6 inches / 200cm |
Our Ziggy Divan Base combines luxury upholstery with practicality and comfort. This classic bed base is available in both front-end or side opening drawer features, which is a great storage solution for seasonal furnishings, clothing, etc. The Ziggy Divan has the classic chesterfield style of upholstery, which is sure to never go out of style, fashioned with deep, patterned sections and finished with sleek button detail. 
The Ziggy Divan is available in an array of sizes to suit all people and room types, as well as a large variety of shades and types of fabrics.
Great store,"Perfect, very comfy"
Great store,"These look so nice , smart and affordable"
The product was damaged when I receive it,I bought it as a present and I haven?t had any comments
GREAT PRODUCT,"Love this bed , so comfortable and first time in a few years that I've slept so well.Was kept informed about delivery all the way through and delivery was earlier which was a plus , I'm a 60+ female and was able to assemble with no help , and instructions were attached to bases, would definitely recommend , top service"