Drawer options on divan bases
Storage solutions offered by divan bases with drawers
The lack of adequate storage space in the bedroom is a major frustration for many of our customers. Here, at Next Divan, our collection of divan bed bases with drawers offers a broad variety of storage solutions which will make the most of your available space, however limited. In this guide, we talk about traditional divan bases both with and without drawers.

The traditional divan base explained
Most customers in the UK are still opting for a traditional divan bed frame. Simply put, this type of base takes the form of an upholstered frame which is designed to support the mattress. Depending on your preference, however, you can either have it fitted with castors if mobility is important to you, or it can rest on legs if you prefer more stability.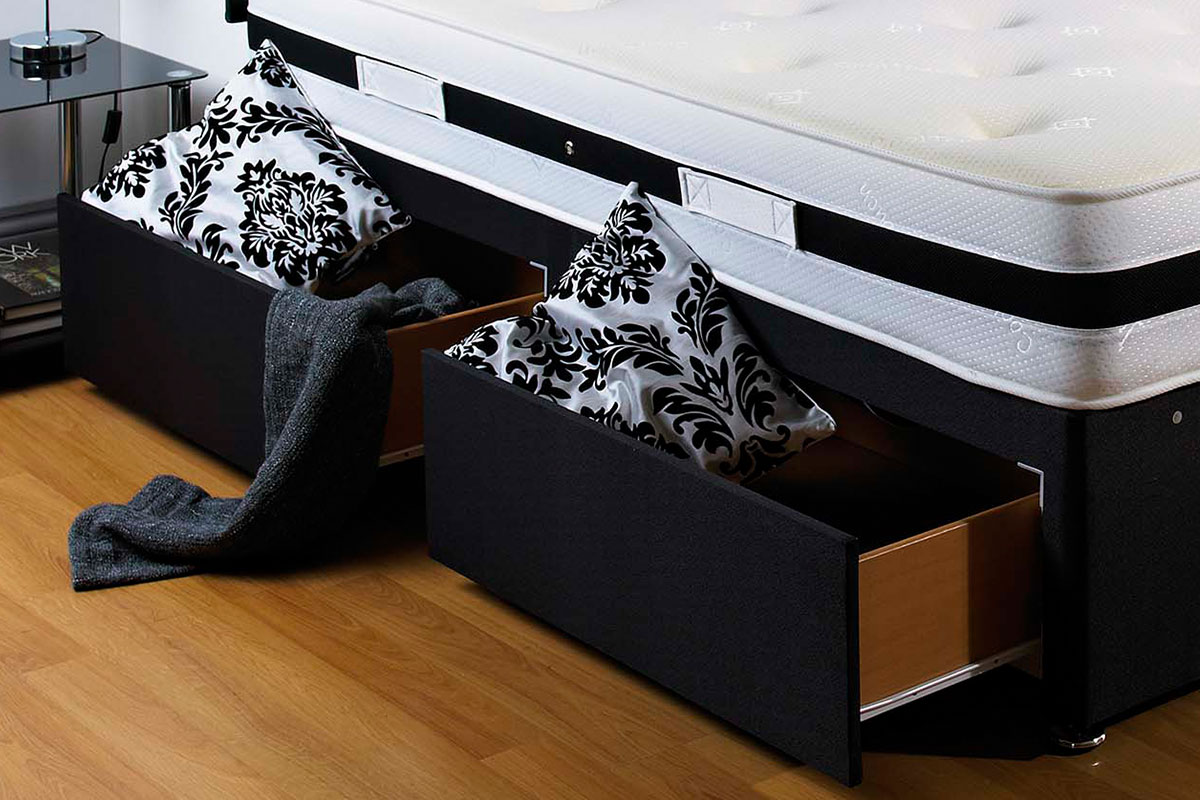 Enjoy up to four drawers' worth of storage

The traditional divan frame can be purchased with no drawers. But, for many customers, alongside providing substantial support for the mattress, the ultimate selling point of traditional bases is that they can accommodate up to four drawers, which form part of the bed frame itself. Take a look at our website where you will find a fantastic selection of storage divan models to suit every budget and available size, as we explain below.
A two-drawer model offers a basic storage option, with drawers located on the same side of the bed frame or either side of the bottom base.

Please note, however, that having two drawers on either side of the bottom base is not available for small single and single divan beds as there is not enough room for them.
Meanwhile, a four-drawer model will provide you with all the advantages you can expect by having two drawers on either side of the bed. This is the perfect choice if you have small bedside units and want the maximum in storage space. We produce divan beds in the following sizes: small single, single, small double, double, king and super king.


We are your number one choice for storage beds and more

Next Divan was created with one thing in mind: making the possibility of having a great sleeping experience affordable to everyone. We also recognise that buying a bed frame is not a decision our customers take lightly. This means that you can have every confidence that we will always help you in choosing something that perfectly meets your needs.
As we also pride ourselves in supporting the local economy, as far as possible, our products are handcrafted in the UK. When we source some items outside of the UK, we make sure they are exclusively made by partners who meet our high standards of quality and excellence.
Not only does Next Divan offer everything you need for a good night's sleep at great prices and make it easy to purchase them on our website, we also offer FREE DELIVERY to most postcodes located in mainland UK. So, please check out our website today and start to take advantage of the storage potential in your bedroom.