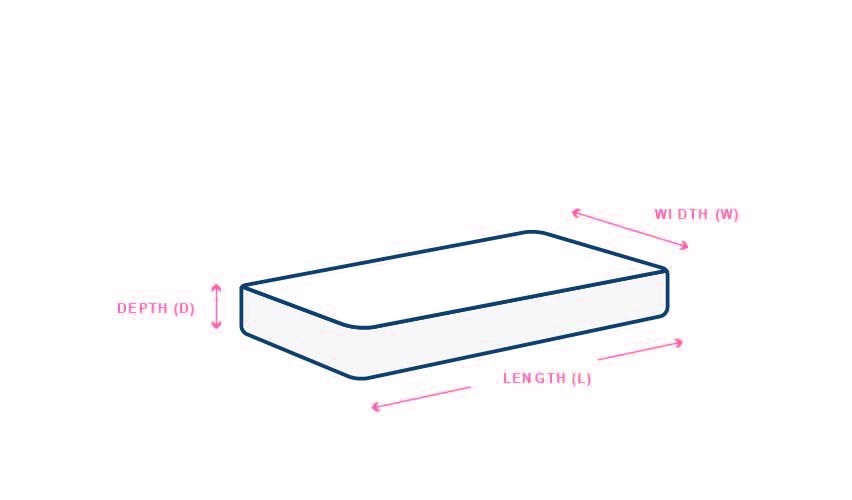 | Size | Width (mm) | Length (mm) |
| --- | --- | --- |
| Small Single Mattress | 2 feet 6 inches / 75cm | 6 feet 3 inches / 190cm |
| Single Mattress | 3 feet / 90cm | 6 feet 3 inches / 190cm |
| Small Double Mattress | 4 feet / 120cm | 6 feet 3 inches / 190cm |
| Double Mattress | 4 feet 6 inches / 135cm | 6 feet 3 inches / 190cm |
| King Size Mattress | 5 feet / 150cm | 6 feet 6 inches / 200cm |
| Super King Size Mattress | 6 feet / 180cm | 6 feet 6 inches / 200cm |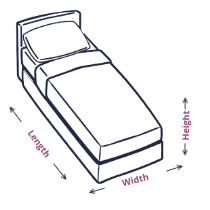 | Size | Width (mm) | Length (mm) | Height (mm) | Headboard Height (mm) |
| --- | --- | --- | --- | --- |
| Small Single Ottoman Bed | 2 feet 6 inches / 75cm | 6 feet 3 inches / 190cm | 38cm | 80cm (32") / 137cm (54") |
| Single Ottoman Bed | 3 feet / 90cm | 6 feet 3 inches / 190cm | 38cm | 80cm (32") / 137cm (54") |
| Small Double Ottoman Bed | 4 feet / 120cm | 6 feet 3 inches / 190cm | 38cm | 80cm (32") / 137cm (54") |
| Double Ottoman Bed | 4 feet 6 inches / 135cm | 6 feet 3 inches / 190cm | 38cm | 80cm (32") / 137cm (54") |
| King Size Ottoman Bed | 5 feet / 150cm | 6 feet 6 inches / 200cm | 38cm | 80cm (32") / 137cm (54") |
| Super King Size Ottoman Bed | 6 feet / 180cm | 6 feet 6 inches / 200cm | 38cm | 80cm (32") / 137cm (54") |
Our Ziggy bed is one of the most popular Ottoman purchased from our online store, especially in the Grey option which is currently on trend in home interiors in the UK.
Our Ziggy Ottoman Base combines luxury upholstery with practicality and comfort. This classic bed base is available in both front-end and side opening ottoman functions, which is a great storage solution for seasonal furnishings, clothing, etc. The Ziggy Ottoman has the classic chesterfield style of upholstery, which is sure to never go out of style, fashioned with deep, patterned sections and finished with sleek button detail. 
The Ziggy Ottoman is available in an array of sizes to suit all people and room types, as well as a large variety of shades and types of fabrics.
The bed comes with a Ottoman base in the size of your choice and you can choose either no headboard, 32in strutted or 54in floor standing buttoned headboard.
This bed is available in the following sizes; 2FT6 Small Single, 3FT Single, 4FT Small Double, 4FT6 Double, 5FT King, 6FT Super King
Colours

Cream / Browns Bed
Grey Beds
Other Colours Beds

Bed Size

Double Size Beds
King Size Beds
Single Size Beds
Small Double Beds
Small Single Beds
Super King Size Beds

Fabric

Chenille Fabric
Linen Fabric
Plush / Velvet
Suede Fabric
Wool Fabric

Mattresses

Memory Foam Mattresses
Pocket Spring Mattresses

Mattress Firmness

Medium Soft

Mattress Size

Double Mattress
King Size Mattress
Single Mattress
Small Double Mattress
Small Single Mattress
Super King Size Mattress

Divan Type

Full Set Beds
Great product,Great bed base excellent storage & delivery
Great product,Great bed base excellent storage & delivery
Great product,Fab purchase. Minimum assembly. Great storage space. Would definitely recommend. Great price
Very pleased,Quick easy delivery very pleased with purchase the base is more a dark silver ! Very pleased.
fantastic bed,"what a fantastic base unit well worth the money would highly recommend
Elexcent value,Elexcent bed good value
Good quality,Great storage option for small room
A great purchase great value for money,We love the bed looks good great to sleep on and loads of storage we soon made use of solidly made excellent.
Great product,Nice looking bed prompt delivery with good communication. Hydraulic/gas struts are very stiff at first and bend the top when putting down - need three hands top middle and bottom of bed! Sure they will free up with use so very pleased.
Great storage divan,Great storage space attractive chenille fabric. Good value for money. Prompt delivery.
Just loved mad going for another one .,Wish there was 10 star to give it all..I love it so mush that today I got the second one and I order another one. is amazing to be able just hide all the bedroom mess under the bed
Amazing product & service,Amazing product... highly recommended 100% happy with my order and service with the company and delivery staff best purchase online
Well made,Loads of storage easy to assemble very well made for the price. I would def recommend.
Excellent fully recommend this product.
Great product, Lovely ottoman bed base. Easy to assemble. Arrived earlier than expected. Communication was excellent. Very happy
Just received my single ottoman divan it?s a great bed sturdy well made and so pretty. Loads of storage in a strong well made base. My granddaughter will love it. Amazing bed amazing price amazingly quick delivery and delivery men took it up to the bedroom. So a very positive review if you are thinking of getting a bed like this don?t hesitate a must buy. Thank you.
Just what I was looking for, Great storage well made and easy to assemble....
Excellent all-rounder & value for money! 3ft Single Side Lift Ottoman Bed,"Perfect! Had been searching around shops for a value for money 3ft single side lift ottoman silver bed for my child?s small room. One that has a solid storage area (nb still have to respect what weight Items you store) as some I saw had material compartment. Also the slats are not exposed (protection from dust above). There is a decent bit of non-slip fabric for own mattress to grip to. Nb the gas lift (once assembled) opens ever so easy and needs the weight of the mattress to remain closed.
Customers who bought this product also bought: