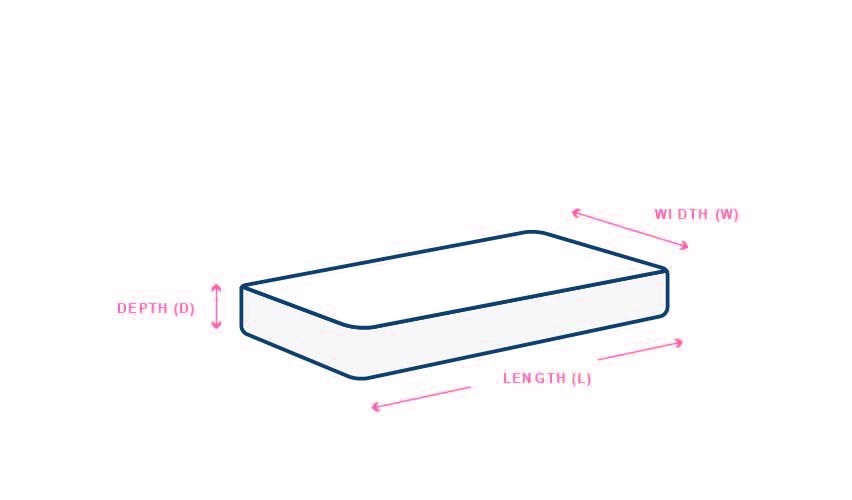 | Size | Width (mm) | Length (mm) |
| --- | --- | --- |
| Small Single Mattress | 2 feet 6 inches / 75cm | 6 feet 3 inches / 190cm |
| Single Mattress | 3 feet / 90cm | 6 feet 3 inches / 190cm |
| Small Double Mattress | 4 feet / 120cm | 6 feet 3 inches / 190cm |
| Double Mattress | 4 feet 6 inches / 135cm | 6 feet 3 inches / 190cm |
| King Size Mattress | 5 feet / 150cm | 6 feet 6 inches / 200cm |
| Super King Size Mattress | 6 feet / 180cm | 6 feet 6 inches / 200cm |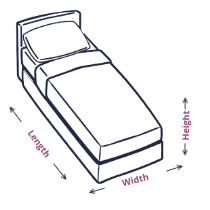 | Size | Width (mm) | Length (mm) | Height (mm) | Headboard Height (mm) |
| --- | --- | --- | --- | --- |
| Small Single Ottoman Bed | 2 feet 6 inches / 75cm | 6 feet 3 inches / 190cm | 38cm | 80cm (32") / 137cm (54") |
| Single Ottoman Bed | 3 feet / 90cm | 6 feet 3 inches / 190cm | 38cm | 80cm (32") / 137cm (54") |
| Small Double Ottoman Bed | 4 feet / 120cm | 6 feet 3 inches / 190cm | 38cm | 80cm (32") / 137cm (54") |
| Double Ottoman Bed | 4 feet 6 inches / 135cm | 6 feet 3 inches / 190cm | 38cm | 80cm (32") / 137cm (54") |
| King Size Ottoman Bed | 5 feet / 150cm | 6 feet 6 inches / 200cm | 38cm | 80cm (32") / 137cm (54") |
| Super King Size Ottoman Bed | 6 feet / 180cm | 6 feet 6 inches / 200cm | 38cm | 80cm (32") / 137cm (54") |
The Flexby Ottoman is one of the most stylish upholstery designs in our collection. The Flexby's detailed headboard is designed with side panelled upholstered sections and horizontal sections throughout the centre. As well as its sleek handmade design, the Flexby Ottoman has an ottoman practical, secret storage solution for siding away seasonal items and general clutter, for a clear and cohesive living space. 
The Flexby Ottoman is available in an array of sizes to suit all people and room types, as well as a large variety of shades and types of fabrics.
I'm in love with this bed. Just as the reviews says is correct. The Delivery process was amazing, they kept me updated from start to finish. The mattress is so comfortable my back does not hurt as it use to. No instructions came with the bed, but not to worry very straight forward on how you assemble. I was hesitant to buy a bed off Amazon, but after reading the reviews I thought why not give it a go and hope for the best. Well put it this way I'm one happy customer.
I wanted to replace my bed with a divan one and spent ages looking around online for one that had good reviews and wasn't going to cost me ?500+. I cam across this one and was a little hesitant at first but after reading the reviews i decided to try it and its SO worth it!
Would recommend!,Fab purchase. Minimum assembly. Great storage space. Would definitely recommend. Great price
Would recommend!,What a fantastic product - you would expect to pay a lot more than what it?s listed for - it?s very much under priced for the products quality and finish I would not hesitate to buy again and am thinking of doing so - you cannot fault it I would highly recommend
Would recommend!,Excellent value and quality product. Very pleased. Came assembled and only had to screw on 2 nuts for the arms (very easy)
Would recommend!,"really well made and priced bed, its not difficult to work out the minimal assembly."
Would recommend!,Looked small but big enough for spare bedroom
Would recommend!," ordered this bed for my son to make more room, the delivery was quick and the quality of the bed is excellent. Would definitely recommend."
Would recommend!,"Good quality, definitely recommend. Buy headboard separately."
Would recommend!,So much storage under the bed and looks great! Has worked wonders in my small bedroom __ 100% recommend
Would recommend!,"Bought to replace the 2 single beds in our caravan. Brilliant fit, good quality and incredibly easy to put together. Great delivery"
Would recommend!,Brilliant product for the price. Came ready assembled and the delivery men placed in situ.
Would recommend!,Very well built and sturdy . Great purchase for the price.
Would recommend!,Very good quality for the price and seller was very helpful with good response times.
Would recommend!,Just brilliant! I can store all I want and it came almost assembled! Great value.
Would recommend!,Sturdy and great for storage
Bought this Bed for my sons bedroom, I could not believe the high quality of the bed for the price we paid. The delivery could not have been any better with plenty of contact when it was going to arrive. The bed itself was very easy to assemble, will definitely consider buying again.