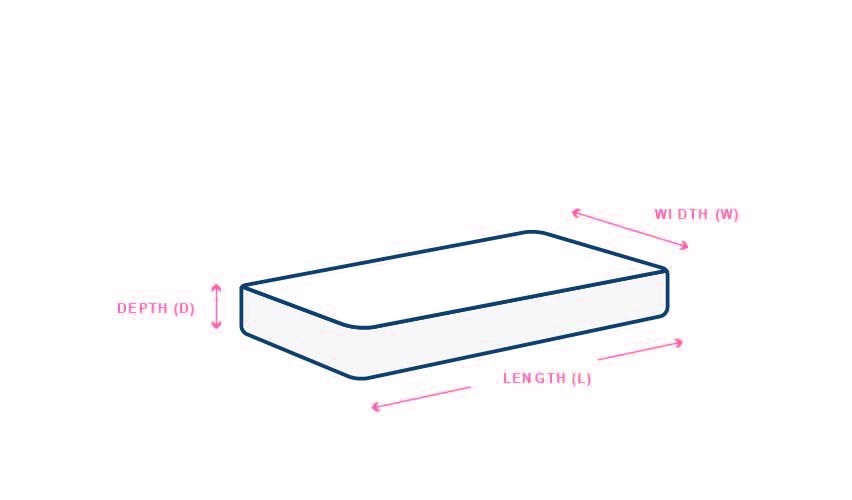 | Size | Width (mm) | Length (mm) |
| --- | --- | --- |
| Small Single Mattress | 2 feet 6 inches / 75cm | 6 feet 3 inches / 190cm |
| Single Mattress | 3 feet / 90cm | 6 feet 3 inches / 190cm |
| Small Double Mattress | 4 feet / 120cm | 6 feet 3 inches / 190cm |
| Double Mattress | 4 feet 6 inches / 135cm | 6 feet 3 inches / 190cm |
| King Size Mattress | 5 feet / 150cm | 6 feet 6 inches / 200cm |
| Super King Size Mattress | 6 feet / 180cm | 6 feet 6 inches / 200cm |
This mattress comes with a premium medium firm 30cm mattress which is filled to the brim with materials which will guarantee a great night of sleep every night. With a pocket sprung core topped with a deep layer of memory foam and surrounded by a soft deluxe micro quilted layer that offers the perfect blend of spring and foam technologies without compromises. It also comes with an integrated memory foam topper to give it that extra cushiony feel. The mattress is available in the following sizes; 2FT6 Small Single, 3FT Single, 4FT Small Double, 4FT6 Double, 5FT King, 6FT Super King.
GREAT PRODUCT,"This product is extremely well made, although iv only had two days so time will tell, it is very firm, I don?t suffer with pain so I cannot comment on that, iv switched from a soft mattress to this and at the moment I?m finding it to hard to sleep on but I suppose that is down to needing time to get used to it, it is a very firm mattress and at this price you cannot complain as iv been to shops and seen similar for well over a thousand pounds, the depth of the mattress is massive the whole product looks very expensive and well made. For anyone who doesn?t need a firm mattress or doesn?t like a firm mattress this is not the product for you, but if you are wanting firm at a fraction of the leading retail price this is the best iv seen so far, can?t quite believe how well made it is for the price."
Great store,Nice and firm mattress and has made a big difference to my sleeping. I?ll recommend it to anyone
Customers who bought this product also bought: