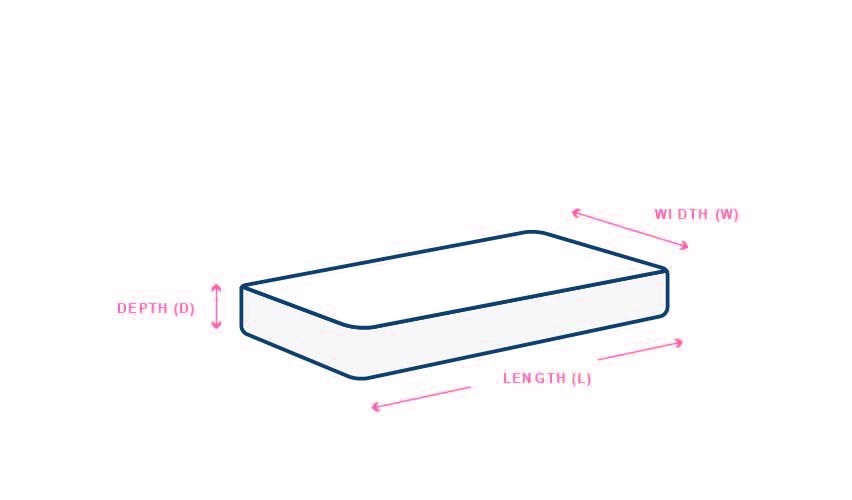 | Size | Width (mm) | Length (mm) |
| --- | --- | --- |
| Small Single Mattress | 2 feet 6 inches / 75cm | 6 feet 3 inches / 190cm |
| Single Mattress | 3 feet / 90cm | 6 feet 3 inches / 190cm |
| Small Double Mattress | 4 feet / 120cm | 6 feet 3 inches / 190cm |
| Double Mattress | 4 feet 6 inches / 135cm | 6 feet 3 inches / 190cm |
| King Size Mattress | 5 feet / 150cm | 6 feet 6 inches / 200cm |
| Super King Size Mattress | 6 feet / 180cm | 6 feet 6 inches / 200cm |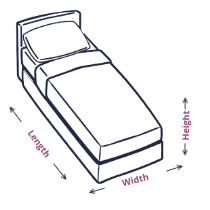 | Size | Width (mm) | Length (mm) | Height (mm) | Headboard Height (mm) |
| --- | --- | --- | --- | --- |
| Small Single Ottoman Bed | 2 feet 6 inches / 75cm | 6 feet 3 inches / 190cm | 38cm | 80cm (32") / 137cm (54") |
| Single Ottoman Bed | 3 feet / 90cm | 6 feet 3 inches / 190cm | 38cm | 80cm (32") / 137cm (54") |
| Small Double Ottoman Bed | 4 feet / 120cm | 6 feet 3 inches / 190cm | 38cm | 80cm (32") / 137cm (54") |
| Double Ottoman Bed | 4 feet 6 inches / 135cm | 6 feet 3 inches / 190cm | 38cm | 80cm (32") / 137cm (54") |
| King Size Ottoman Bed | 5 feet / 150cm | 6 feet 6 inches / 200cm | 38cm | 80cm (32") / 137cm (54") |
| Super King Size Ottoman Bed | 6 feet / 180cm | 6 feet 6 inches / 200cm | 38cm | 80cm (32") / 137cm (54") |
Our Ziggy Ottoman Base combines luxury upholstery with practicality and comfort. This classic bed base is available in both front-end and side opening ottoman functions, which is a great storage solution for seasonal furnishings, clothing, etc. The Ziggy Ottoman has the classic chesterfield style of upholstery, which is sure to never go out of style, fashioned with deep, patterned sections and finished with sleek button detail. 

The Ziggy Ottoman is available in an array of sizes to suit all people and room types, as well as a large variety of shades and types of fabrics.
Have been looking for a new divan bed for a few months and after visiting high street bed stores, I was beginning to loose hope as they were all so expensive. I decided to google double divan beds with mattress and headboard and one of the first to come up was this bed on Amazon. We were a little dubious at first because we hadn?t actually seen the bed And always a little concern when you don?t ?try before you buy? but I read the reviews and thought, its certainly worth a try.
Was great really like it was the same i ordered
Awesome bed. They are very responsive and delivered the quality product as they described over the phone. Will order one more to my second bedroom.
Lovely bed, fab storage for all my sons toys.
Great communication,Great bed base excellent storage & delivery
Fab purchase. Minimum assembly. Great storage space. Would definitely recommend. Great price
Quick easy delivery, very pleased with purchase the base is more a dark silver ! Very pleased.
what a fantastic base unit well worth the money would highly recommend
Mr
Would recommend!,Really pleased. Minimal assembly required and delivery people took it to the room. The fixed bottom means you don't have as much depth of storage as you'd expect and there was lots of packaging to remove and dispose of. The bed itself is lovely and ideal for my spare room.
Mrs
Would recommend!,Seems good so far. Bought mink which is a sterl grey colour to me. Looks nice. Lots of space inside the base. Easy to open and close. I'm pleased with my purchase.
Would recommend!,"Gas lifts are unbelievably powerful.
Would recommend!,Really sturdy base. Has like a rubber on the top for the mattress to attach too so it doesn?t slide when you lift the bed to get to the storage. Colour looked exactly like the picture. Has an actual base so what?s stored isn?t sitting in the floor as with my other ottoman bed.
Would recommend!,"This was a lot cheaper than similar beds I saw, but it?s really good quality. The covering has a nice soft feel to it and the bed feels very sturdy. Very easy to put together as you just have to add the feet and connect the struts. Great storage."
Mr
Would recommend!,So happy with my purchase of an ottoman storage bed. Easy delivery. Very helpful when I needed to amend the date as arrived early. Quality fabulous. Solid bed. Highly recommend.
Would recommend!,By far the best value ottoman bed I could find. It?s probably not the best structurally but if it?s for long term storage and not everyday use it?s brilliant!
We bought this bed as a super king size, omg it's the best bed I've had, it's easy to put together, the only trouble we had was getting the metal clips in too hold the bed together, apart from that it's amazing the mattress is firm enough and has 2 sides too sleep on, I would definitely buy this bed again, also the delivery driver and his partner help battle with my husband too get it in the house and upstairs, they where truly remarkable thanks guys
Bought for daughter, she absolutely loves this, its very comfortable and looks super in her newly decorated bedroom, the headboard can be put on either end so that's a bonus for having the drawers at the appropriate side, the drawers are big so plenty of space.no instructions came but was very simple to put together, only slight fault was the headboard when attached can seem abit wobbly (headboard quite heavy and tall ) you can have the legs to headboard on floor but mine are slightly off the carpet but the quality of it is lovely and the bed