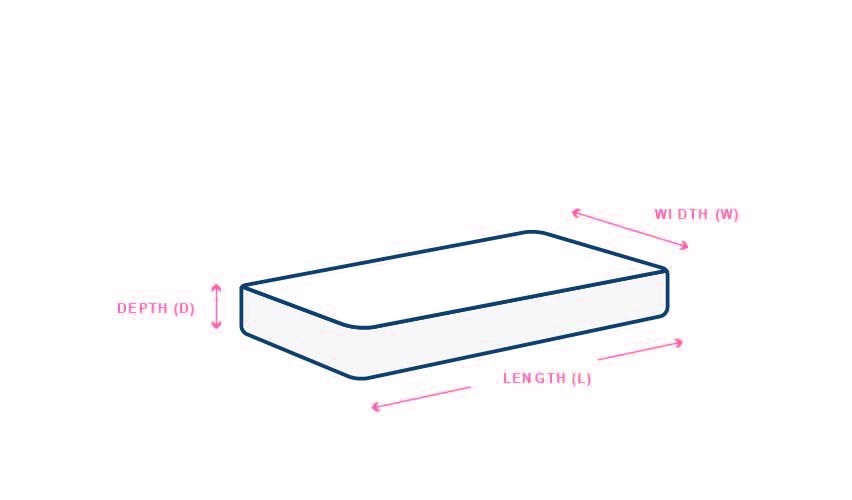 | Size | Width (mm) | Length (mm) |
| --- | --- | --- |
| Small Single Mattress | 2 feet 6 inches / 75cm | 6 feet 3 inches / 190cm |
| Single Mattress | 3 feet / 90cm | 6 feet 3 inches / 190cm |
| Small Double Mattress | 4 feet / 120cm | 6 feet 3 inches / 190cm |
| Double Mattress | 4 feet 6 inches / 135cm | 6 feet 3 inches / 190cm |
| King Size Mattress | 5 feet / 150cm | 6 feet 6 inches / 200cm |
| Super King Size Mattress | 6 feet / 180cm | 6 feet 6 inches / 200cm |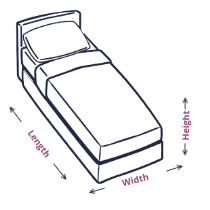 | Size | Width (mm) | Length (mm) | Height (mm) | Headboard Height (mm) |
| --- | --- | --- | --- | --- |
| Small Single Ottoman Bed | 2 feet 6 inches / 75cm | 6 feet 3 inches / 190cm | 38cm | 80cm (32") / 137cm (54") |
| Single Ottoman Bed | 3 feet / 90cm | 6 feet 3 inches / 190cm | 38cm | 80cm (32") / 137cm (54") |
| Small Double Ottoman Bed | 4 feet / 120cm | 6 feet 3 inches / 190cm | 38cm | 80cm (32") / 137cm (54") |
| Double Ottoman Bed | 4 feet 6 inches / 135cm | 6 feet 3 inches / 190cm | 38cm | 80cm (32") / 137cm (54") |
| King Size Ottoman Bed | 5 feet / 150cm | 6 feet 6 inches / 200cm | 38cm | 80cm (32") / 137cm (54") |
| Super King Size Ottoman Bed | 6 feet / 180cm | 6 feet 6 inches / 200cm | 38cm | 80cm (32") / 137cm (54") |
The Richworth Ottoman Bed, is the ultimate storage bed solution, offering two compartments to create a multitude of space in any bedroom and a front end ottoman opening. This design is contemporary in style, providing a simplistic yet stylish sleep experience for all.
Build your own Richworth Ottoman Bed in a variety of fabric and colour options. Also available in small single, single, small double, double, king size and super king sizes.
Great value and quality, easy to assemble and looks good. Would recommend
Items arrived safe & quick. Great communication,"Really pleased with this bed base, arrived on time. And very easy to assemble."
Excellent product, service of delivery exceptional constant updates of delivery times etc and the staff delivering were careful manoeuvre into home I ordered 2 lots this company were amazing and the beds were well covered with packaging to protect the items.
Weve had this kingsize bed now for a good few months, And it honestly is the best bed I've ever owned.
Items arrived safe & quick. Great communication,Looked small but big enough for spare bedroom
Sturdy and great for storage
Divan Ottoman had transport damage when it arrived. Contacted the seller and with 6 minutes I had a reply from them apologising. Within 6 hour I had a new delivery date. Things happen its how you respond to them ,I was well impressed with customer services. When replacement arrived it was great really good Quality
Items arrived safe & quick. Great communication,Very good quality for the price and seller was very helpful with good response times.
The product was damaged when I receive it,When I received the bed one of the gas struts failed after 5 mins of being assembled. The company responded to my email within 30 mins and promptly sent me two new struts and offered me a partial refund as compensation. Top marks for customer service. The bed has been great and is well worth the money.
Seems good so far. Bought mink which is a sterl grey colour to me. Looks nice. Lots of space inside the base. Easy to open and close. I'm pleased with my purchase.
Great communication,Really pleased. Minimal assembly required and delivery people took it to the room. The fixed bottom means you don't have as much depth of storage as you'd expect and there was lots of packaging to remove and dispose of. The bed itself is lovely and ideal for my spare room.