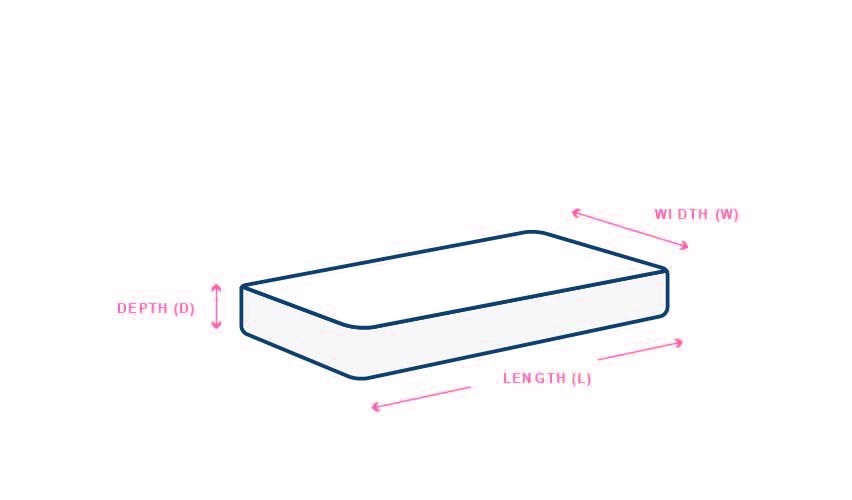 | Size | Width (mm) | Length (mm) |
| --- | --- | --- |
| Small Single Mattress | 2 feet 6 inches / 75cm | 6 feet 3 inches / 190cm |
| Single Mattress | 3 feet / 90cm | 6 feet 3 inches / 190cm |
| Small Double Mattress | 4 feet / 120cm | 6 feet 3 inches / 190cm |
| Double Mattress | 4 feet 6 inches / 135cm | 6 feet 3 inches / 190cm |
| King Size Mattress | 5 feet / 150cm | 6 feet 6 inches / 200cm |
| Super King Size Mattress | 6 feet / 180cm | 6 feet 6 inches / 200cm |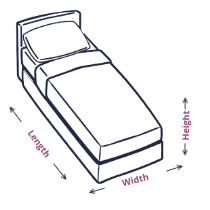 | Size | Width (mm) | Length (mm) | Height (mm) | Headboard Height (mm) |
| --- | --- | --- | --- | --- |
| Small Single Ottoman Bed | 2 feet 6 inches / 75cm | 6 feet 3 inches / 190cm | 38cm | 80cm (32") / 137cm (54") |
| Single Ottoman Bed | 3 feet / 90cm | 6 feet 3 inches / 190cm | 38cm | 80cm (32") / 137cm (54") |
| Small Double Ottoman Bed | 4 feet / 120cm | 6 feet 3 inches / 190cm | 38cm | 80cm (32") / 137cm (54") |
| Double Ottoman Bed | 4 feet 6 inches / 135cm | 6 feet 3 inches / 190cm | 38cm | 80cm (32") / 137cm (54") |
| King Size Ottoman Bed | 5 feet / 150cm | 6 feet 6 inches / 200cm | 38cm | 80cm (32") / 137cm (54") |
| Super King Size Ottoman Bed | 6 feet / 180cm | 6 feet 6 inches / 200cm | 38cm | 80cm (32") / 137cm (54") |
The Platinum Ottoman is one of a kind here at Next Divan and is made to offer its unique beauty as well as storage to suit your needs. The upholstery style of the Platinum Ottoman represents that of a rising sun and is sure to make your interior stand out in the crowd, with its boho look and feel. You can choose from either a foot end or side opening ottoman, to suit your room layout for easy siding. 
The Platinum Ottoman is available in an array of sizes to suit all people and room types, as well as a large variety of shades and types of fabrics.
Was what i expected i would like to say the price was great
I have no idea how they sell this bed for such a low price but thank god they do.
Mr
Would recommend!,Lovely ottoman bed. Well worth the money. Customer service were prompt and helpful.
Would recommend!,Brilliant bed looks good
Would recommend!,"My grandson love this bed, he says it is comfortable and it was easy to set and easy to use.. once the mattress is on it goes up and down easily.. my Grandson is 15 years and 6foot 2inches."
Would recommend!,Very good for the price. Great storage. Easy to open and close. Looks nice. A little bit of padding would have been nice but overall it?s great
Would recommend!,"using it with a memory foam mattress, Very comfy"
Would recommend!,"Really pleased with this bed base, arrived on time. And very easy to assemble."
Would recommend!,Lovely bed very comfortable with loads of storage.
Would recommend!,"Quick easy delivery, very pleased with purchase the base is more a dark silver ! Very pleased."
Would recommend!,"Great storage space, attractive chenille fabric. Good value for money. Prompt delivery."
Would recommend!,This ottaman is brilliant. Loads of storage and looks great too. Hard to close once it's opened but manageable.
I bought this bed for my daughter as she needed new one. She absolutely loves her new bed and says it's really comfy and looks lovely in her room. The drawers are little difficult to close when pulled all the way, however very useful with large storage.
Good sturdy bed.,The bed is a good and sturdy with loads of room in the ottoman. Mainly easy to assemble. Just had a problem with the hydraulic arms which turned out to be really stiff because the pistons are new. However fully set up and working a treat. ,
Worth every penny,Excellent product,
?Love the Height of the bed. Looks great! Easy to Install,"I ordered the double ottoman side lift in Mink, and it looks great.?I am really happy with the bed - the internal storage compartment is well made, and is a solid hard board so very good for storage. The bed came in two pieces, which you just clip together with the metal clips. Very straight forward. The gas lifts are great - no complicated installation there either, as it comes ready built. You just need to put in place and turn the bolt to secure. The delivery was a 2 man delivery, and they were very good. I live in an apartment with lift and they had no issues delivering and to the room of choice. I am happy with the quality, and the look and design of this bed, and compared to the leading retailers - the price of this bed is just such good value for money. I love the height of the bed too. I specifically wanted this bed - because it is not a slatted base - it is a platform base which is what i wanted",