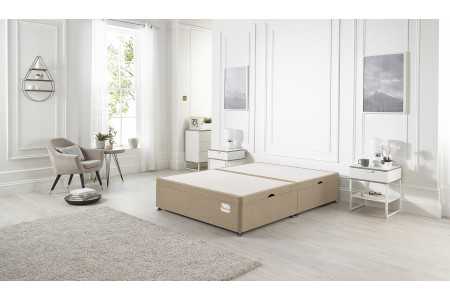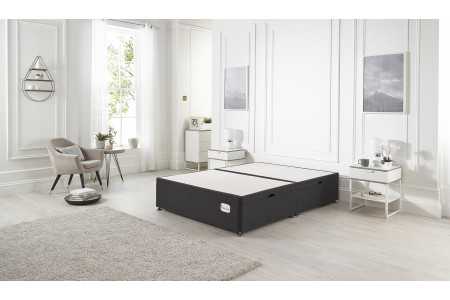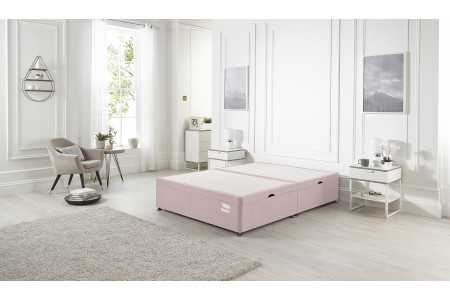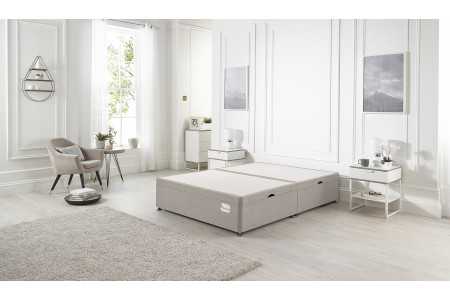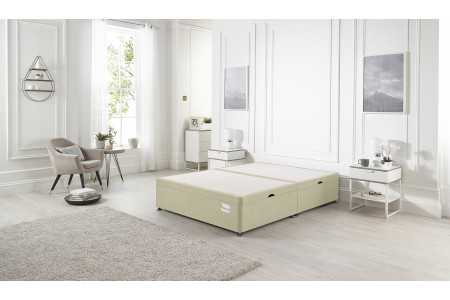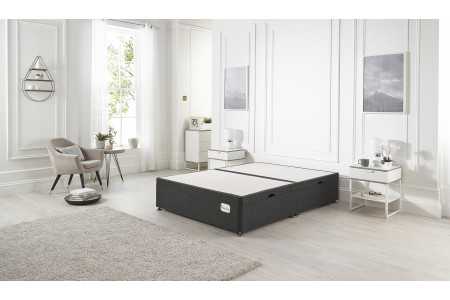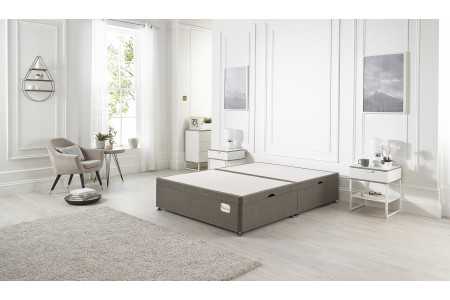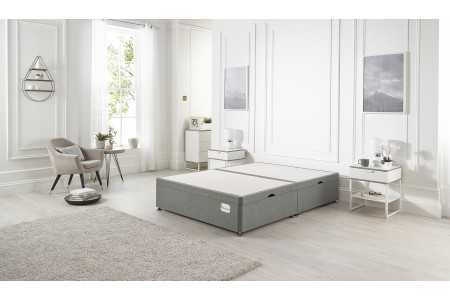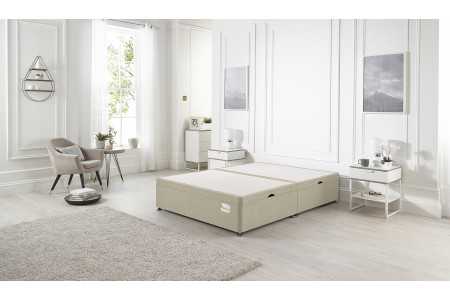 100% secure payments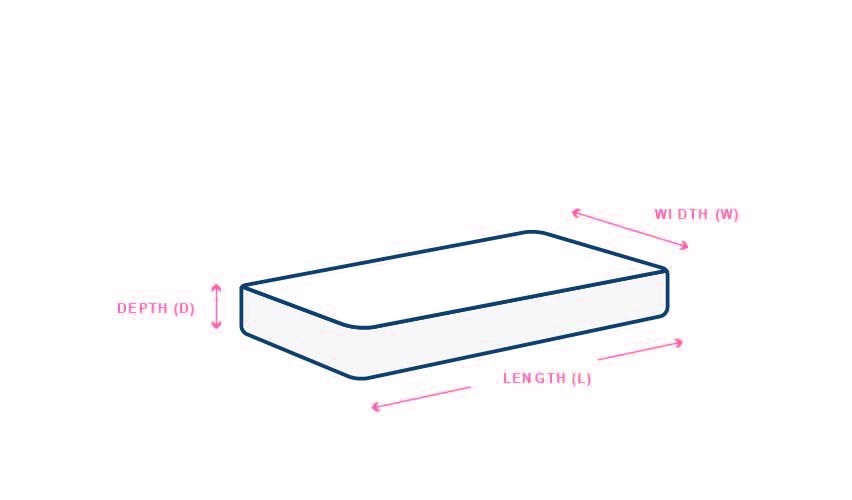 | Size | Width (mm) | Length (mm) |
| --- | --- | --- |
| Small Single Mattress | 2 feet 6 inches / 75cm | 6 feet 3 inches / 190cm |
| Single Mattress | 3 feet / 90cm | 6 feet 3 inches / 190cm |
| Small Double Mattress | 4 feet / 120cm | 6 feet 3 inches / 190cm |
| Double Mattress | 4 feet 6 inches / 135cm | 6 feet 3 inches / 190cm |
| King Size Mattress | 5 feet / 150cm | 6 feet 6 inches / 200cm |
| Super King Size Mattress | 6 feet / 180cm | 6 feet 6 inches / 200cm |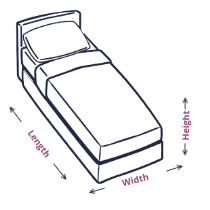 | Size | Width (mm) | Length (mm) | Height (mm) | Headboard Height (mm) |
| --- | --- | --- | --- | --- |
| Small Single Ottoman Bed | 2 feet 6 inches / 75cm | 6 feet 3 inches / 190cm | 38cm | 80cm (32") / 137cm (54") |
| Single Ottoman Bed | 3 feet / 90cm | 6 feet 3 inches / 190cm | 38cm | 80cm (32") / 137cm (54") |
| Small Double Ottoman Bed | 4 feet / 120cm | 6 feet 3 inches / 190cm | 38cm | 80cm (32") / 137cm (54") |
| Double Ottoman Bed | 4 feet 6 inches / 135cm | 6 feet 3 inches / 190cm | 38cm | 80cm (32") / 137cm (54") |
| King Size Ottoman Bed | 5 feet / 150cm | 6 feet 6 inches / 200cm | 38cm | 80cm (32") / 137cm (54") |
| Super King Size Ottoman Bed | 6 feet / 180cm | 6 feet 6 inches / 200cm | 38cm | 80cm (32") / 137cm (54") |
The Millbank Ottoman Bed provides accessible storage for all with a side opening ottoman design and two storage compartments to hide unnecessary items, perfect for creating an organised living space. The Millbank Ottoman Bed is ideal for those looking for a space-saving bed with a sleek and minimalistic style. 
Available in a wide range of fabric and colour choices. Also available in small single, single, small double, double, king size and super king sizes.
The Perfect Combination of Style and Storage Space
If you're looking for a space saver, the Ottoman base is a fantastic choice. This stunning ottoman bed offers an attractive combination of contemporary style and ample storage space. This is an ideal solution if space is at a premium in your bedroom as the ottoman base provides generous storage space for linen, blankets, towels or clothes. The base lifts easily with the help of a gas hydraulic system so you can access the lined storage area underneath the bed. A range of fabrics and colours are available to make this Ottoman base your own. An amazing storage solution at the best prices, a fabulous British made product of excellent quality. The base of this ottoman is solid, so items are securely stored.
Easy To Assemble
Unlike Ottoman bed frames which require assembling, ottoman divan bases need very little assembly, saving you time and energy. To top it off, Ottoman divan beds are delivered to your room of choice by our specialist 2 man delivery service. Please Note: The 3FT Single ottoman bed arrives in one piece and the mattress is NOT included.
Colours

Blue Beds
Cream / Browns Bed
Grey Beds
Pink Beds
White Beds

Bed Size

Double Size Beds
King Size Beds
Single Size Beds
Small Double Beds
Small Single Beds
Super King Size Beds

Fabric

Chenille Fabric
Linen Fabric
Plush / Velvet
Suede Fabric
Wool Fabric

Divan Type

Beds Base Only

Ottoman Opening Options

Side Opening
Absolutely perfect! Amazing quality! The mattress is ridiculously plush, thick and comfy! The headboard is thick and luxurious and the base is sturdy and well made. The drawers are very spacious and NOT flimsy at all (they fit my 40 pairs of shoes!) Delivery drivers were very helpful and friendly, they called me an hour in advanced and were on time. The only thing I'd mention is I was told it would be delivered on Wednesday and it came on the Monday, two days early, it actually worked out better for me as luckily I was off work but just make sure you have someone on hand a couple of days prior to receive the delivery if it does come early. My brother spent over a grand on his bed from a popular nationwide store and this one exceeds their quality by far! My bed arrived with absolutely no damage or defaults. There are no instructions but for the feet you just hammer them in and as for the headboard, there are several youtube tutorials to explain how that
Would recommend!,Amazing bed! I got the superking size. The storage is unbelievable! Got all our Christmas present hidden in there plus our bedding and jumpers!
Absolutely love this bed, really nice sturdy bed with lovely headboard, really good quality, the mattress shocked me with getting it with the bed had this one is for my daughter and I paid over ?200 for my mattress a few years ago which is exactly the same has this one apart from the size, the mattress is really comfortable and firm and still happy with the 1 I have after a few years so I know this one will last too, the mattress is also very thick, would expect a cheap one to come with a bed so really happy with it
Would recommend!,"Came across as excellent product. The supplier is very courteous and helpful. Though no manual, I did not need one to put it together. Solid enough. Solid storage base. Well recomend."
Mrs
Would recommend!,"Nice looking bed, prompt delivery with good communication. Hydraulic/gas struts are very stiff at first and bend the top when putting down - need three hands top middle and bottom of bed! Sure they will free up with use so very pleased."
Would recommend!,"Excellent bed, very pleased with it, easy to assemble and very strong and robust, quality item I would recommend."
Mrs
Would recommend!,"Great value and quality, easy to assemble and looks good. Would recommend"
Mr
Would recommend!,Great strong ottoman bed. Easy to assemble.From start to finish the communication between the seller and the delivery people has been fantastic.
Would recommend!,"Lovely looking bed that provides good storage, without breaking the bank. Delivery was smooth and in time and I was updated about the delivery well in advance too. Thoroughly satisfied with the purchase so far!"
Mr
Would recommend!,Excellent quality and fantastic service. Delivery was so easy and kept In contact to allow me Time to go back to house
Mrs
Would recommend!,"We bought a single bed. Two chaps came and took it to the bedroom. Very polite and friendly. On the single just need to tighten the bolts.
Would recommend!,Really happy with this purchase. Good value. Easy to assemble.
Great service by delivery guy's, set the bed up in about 15 minutes would have preferred side bars to the under bed clips but easy to fit them for very little price, the mattress is something you would pay double the price for alone, it is deep and firm with the memory foam adding to comfort, i would normally sleep 5 to 6 hours in a night but on this bed for the first time in many years i slept almost 10hrs. Do not be put off by the price and you will not be disappointed with this bed.
Customers who bought this product also bought: