Kick off December with a guide to the ultimate Christmas interior design trends
It's the most wonderful time of the year! Which only means one thing...enjoying beautiful homes decorated for Christmas. Whether you go all out and deck the halls or keep it stylish and simple, we have some amazing Christmas interior design trends for Christmas 2020 to transform your home with warming magic, with a little help from Next Divan.
The classic Christmas tree is becoming more and more innovative each year, and it is no doubt that the tree is the festive centrepiece in most homes. From space saving wall art trees, to a black Christmas tree, we have covered enough ideas to change up your boring old tree into something new and wonderful.
Everyone knows getting out the Christmas decs can be a chore, it's not just putting up the tree and hanging up the baubles for some people, it can mean moving around heavy furniture to make space.
If you're strapped for space in your home, or the Christmas tree may be a danger for animals or small children, you can buy...or better yet, make a wall art christmas tree with wire and lights! You can still decorate wall tree's as you please with all the trimmings, without it taking up all your free space and without breaking the bank.
Picture this, soft snow falling outside, the fire hot and burning, and your beautifully lit green Christmas tree in the window. It's the usual image we all get when we think of festive interiors and it's one that is hard to beat. Are you an artificial tree lover or do you love to go pick out a real tree each year? We love both and both can be classically styled, or done up with your own personal twist.
At the minute we are loving pink and white decorated frosted artificial trees, it's a feminine take on the usual red and green coloured decorations that go with this festive period, but it adds a little more sparkle and is just as magical!
Coloured trees are bound to make your home stand out this year, an uprising Christmas trend in 2020 is a black Christmas tree - going against all the things traditional . However we are all for this beautiful dramatic shade of black to really make an impact in any home with its bold contrast against beautiful shades of red, green and gold. 
Another more commonly seen coloured tree is white, it is less popular than it once was, but it can be decorated beautifully and gives frosted arctic vibes. There are so many coloured tree's available to add personality to your Christmas decorations and make your house stand out from the crowd.
Stripped back and bare materials have been an ongoing trend this year, such as bare plants like pampas grass and unpainted pottery. This trend has continued on to Christmas with the revival of old fashioned craftsmanship being utilised as unique festive decor. Stripped back bouquets show the simplistic beauty in nature, nude coloured stockings mixed with material garlands and wooden tree ornaments reflect a minimalistic approach to the holidays.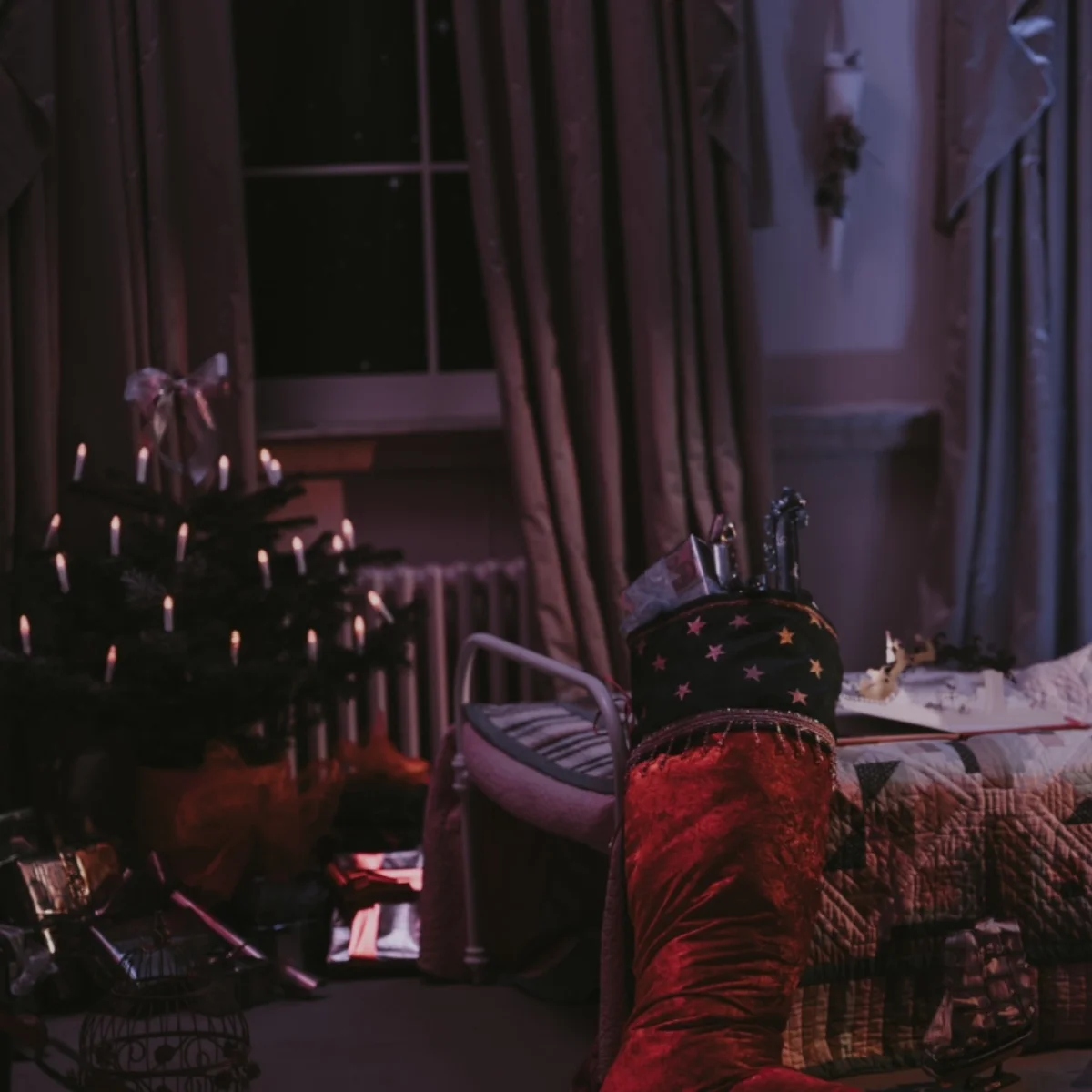 Navy blue is massively popular this Christmas time, with even the most luxury of brands using this shade in their packaging and gift wrap this December. Mixed with deep golds this combination is truly, yet unusually, beautiful.
You could even incorporate these colours together on your tree, on your fireplace or in your Christmas presents. 
Bright and colourful decor this Christmas is sure to help make a dark year have a bright end. This year retailers such as John Lewis, Next and Debenhams are stocking alternative, and extremely colourful, Christmas decor! Wild Christmas tree decorations such as palm trees, flamingos and tropical themed items are taking over Christmas trees in the UK and we are loving this colourful twist.
A lot of people are taking their festive decorations to the bedroom in 2020, with many people still working from home spreading festive cheer to every room whilst we are still stuck indoors, is vital to make us get into that Christmas spirit. Why not try a teddy fleece bedding paired with golden festive cushions for a cosy festive atmosphere? 
At Next Divan, we have a bed that is perfectly suited to this time of year! The Tuscany Sleigh Bed will make you feel like you're flying through the sky with Santa on Christmas Eve, with its beautiful roll top frame and handcrafted, quilted upholstery, it is sure to transform your room into a glorious grotto this winter. 
Which is your favourite festive trend?