Snuggle up with the best movie night essentials
It's officially cosy weather season! And has there ever been a better time to snuggle up in bed, stick on your favourite movie and have the ultimate duvet day? In this week's Next Divan blog, we have the ultimate cosy movie must-watch list & an exclusive cosy night checklist. 
Ultimate autumn-winter movie must-watches!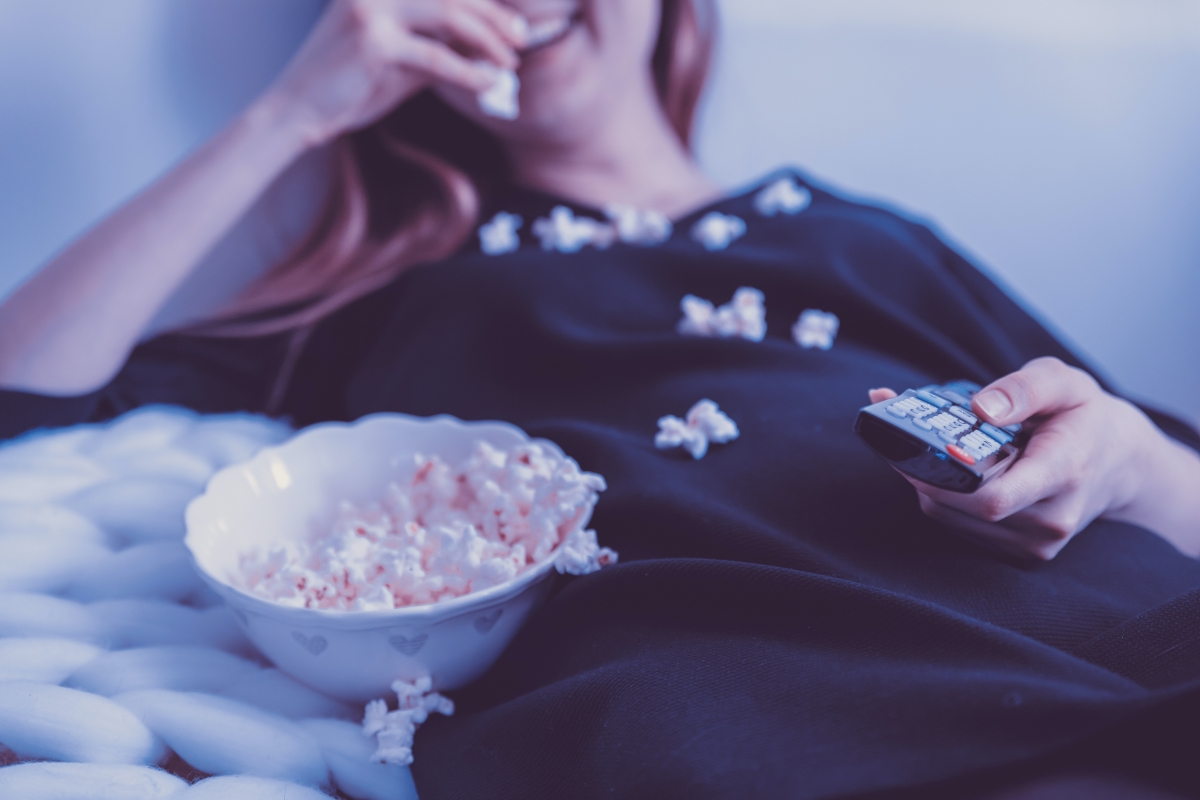 Family favourites 
A family favourite, yet astounding and magical, globally loved movies series, are of course the Harry Potter films. If you haven't heard already, this wizard has been inspiring cosy movie nights since 2001, with the aesthetics of the films being both heart-warming yet suspenseful, the perfect combination for the ultimate autumn-winter movie. Harry Potter is a series of seven fantasy novels, written by British author J.K Rowling, following the life of a young wizard and his friends and fellow students at the Hogwarts School of Witchcraft and Wizardry, who come to face a series of intense events and enemies.
Fantastic Mr Fox, written by Roald Dahl and produced by Wes Anderson, whose signature colour palette can be defined by autumnal shades, is the perfect family movie for this cosy season. The movie follows Mr Fox, a family man, who goes back to his fox ways of stealing, unable to resist his animal instincts. However, the movie takes a twist when Mr Fox and his family find themselves strapped by the local farmers. 
The Nightmare Before Christmas is a perfect mixture of Halloween and Christmas, very fitting for the season we are currently in! This award-winning Tim Burton movie follows the tale of Jack Skellington, a being from Halloween town who discovers Christmas Town and is instantly enchanted. This leads to Jack Skellington abducting Santa Claus himself! A hilarious and creative fun-loving movie, made for this season. 
Rom-Coms
Winter is the perfect time to discover love or spend that extra time with the people you love in your life, creating warm memories and happiness during the festivities. One of our favourite autumn-winter romantic comedies is You've Got Mail. In busy New York during autumn and winter, two bookstore owners, played by Tom Hanks and Meg Ryan become rival book suppliers on the same street, whilst each has their own love stories brewing over anonymous email in the background of their hectic lives, but will their mystery romances be revealed?
If you're looking for the ultimate tear-jerker, then Step Mom is the one to watch! Set in winter New York, this film follows Julia Roberts as the "Step Mom" of kids Anna and Ben, as she tries to form a relationship with the two, whilst their birth mother loathes her completely. Things take an emotional turn when Jackie, Anna and Ben's mum is diagnosed with cancer and is forced to come to terms with the fact that her protection won't be forever. 
Suspense Movies
Looking for a thrill? Look no further! New on the block movie, "Knives Out",  starring Daniel Craig, follows the murder mystery surrounding the wealthy, upper-class Thrombey family, whose knife collecting patriarch was suspiciously found dead in his manor house. This movie is full of suspenseful twists and turns, set in an autumnal scene. It is a perfect must-watch for this time!
Sleepy Hollow, another Tim Burton movie on our list, is an American classic loosely based on the 1820's Washington Irving's short story of "The Legend of Sleepy Hollow". This movie is the ultimate autumnal spook, based in the foliage of New England, Ichabod Crane (played by Johnny Depp), a police detective, is sent from the city of New York to Sleepy Hollow to investigate a series of murders committed by the Headless Horseman.
Movie Night Checklist
For the cherry on top of the perfect movie night, you will need the following must-haves!
Popcorn, chocolate, crisps, and whatever snacks you may desire!
Cinema-themed accessories such as popcorn buckets, cinema tickets, etc. 
Cosy pyjamas, fluffy pillows, and slippers, plus an autumnal scented candle. 
Your favourite drink, why not try to recreate the classic Tango Ice Blast at home?
No wifi or phone signal is a must! Turn that phone off, and have a well-deserved time away from social media to relax. 
At the end of your movie, trivia each other on the movie and what you have learned about the characters and storyline. 
For duvet movie days, the key to success is an ultra comforting and supportive mattress! For back support whilst you enjoy your winter movie, we suggest our Ortho Support Quilted Dual Sided Orthopaedic Mattress! Filled with 12.5g orthopaedic strings and a duo pad for supportive firmness at an affordable price! 5-star customer rated!
If you are feeling your at-home movie theatre is lacking lustre, our new range of divan beds here at Next Divan is the finishing touch you need to add that extra cosy element! Shop here!