The best bed gift guide of the season
Christmas 2020, It's going to be one we'll never forget and hopefully a happy ending to a very dark year. This year it is more important than ever to spread Christmas cheer to everyone around you, whether that is gestures of kindness to your family, or towards people who wouldn't usually be on your gift list, Christmas 2020 is the perfect time to show how much you care. 
It would be safe to say this year we have been sick of seeing the same four walls for days, weeks and even months on end for some of us. This is why a Next Divan bed would be a perfect gift for anyone in your life, to give their home the refresh it needs before going into - a hopefully brighter - 2021.
With a little help from Next Divan, we can help put a smile on your loved ones' faces this year with the perfect bed from our Christmas bed gift guide!
This year was the year of crushed velvet, it took over most houses in the UK, from crushed velvet sofas, to bed's and home accessories. It has been a clear winner this year with bloggers in the UK raving about this luxe material on furniture. Is there someone in your life who appreciates new trends and the finer things in life? One of our crushed velvet beds would be perfect to spruce up their room this Christmas and would make for an amazing gift. 
The Crush Velvet Divan Bed is one of our personal favourites, with its plush material, storage options and handmade frame and upholstery, it is sure to put a smile on that special someone's face. At an amazing price that doesn't break the bank, this trendy bed is perfect for everyone, from little to big, with our different sized bed options. 
Is there someone on your gift list that appreciates a little luxury in their life? The 6000 Gold Pillow Sprung Pocket Cool Blue Divan Bed Set is sure to answer their Christmas wishes this year, with its detailed upholstered headboard, plush sparkling material and a range of storage options available, this would be the perfect gift for the luxury lovers in your life.
We all know someone in our lives that could do with extra storage space in their homes. An ottoman bed could make their Christmas day, with its lifting base to reveal extra storage, this would be an ideal gift for those who are in need of more space. 
The Appian Foot End Opening Ottoman Bed is a beautiful bed storage option, perfect for a family bedroom, with its range of colours in the beautiful Chenille fabric and its easy accessible foot end opening storage, this would be perfect to side away Christmas decorations, seasonal clothes, children's toys, the list of things you can store in our Ottomans are endless.  
Alternatively, a side opening Ottoman bed may be ideal for storage needs of that special someone, and the Buxley Side Opening Ottoman Bed would be perfect for them as a gift this year. As well as introducing a storage option to their room this bed also adds a touch of luxury with its beautiful handmade upholstered head and footboard, in a range of colours, fabrics and sizes. you can really make this bed personalised to their style and storage needs.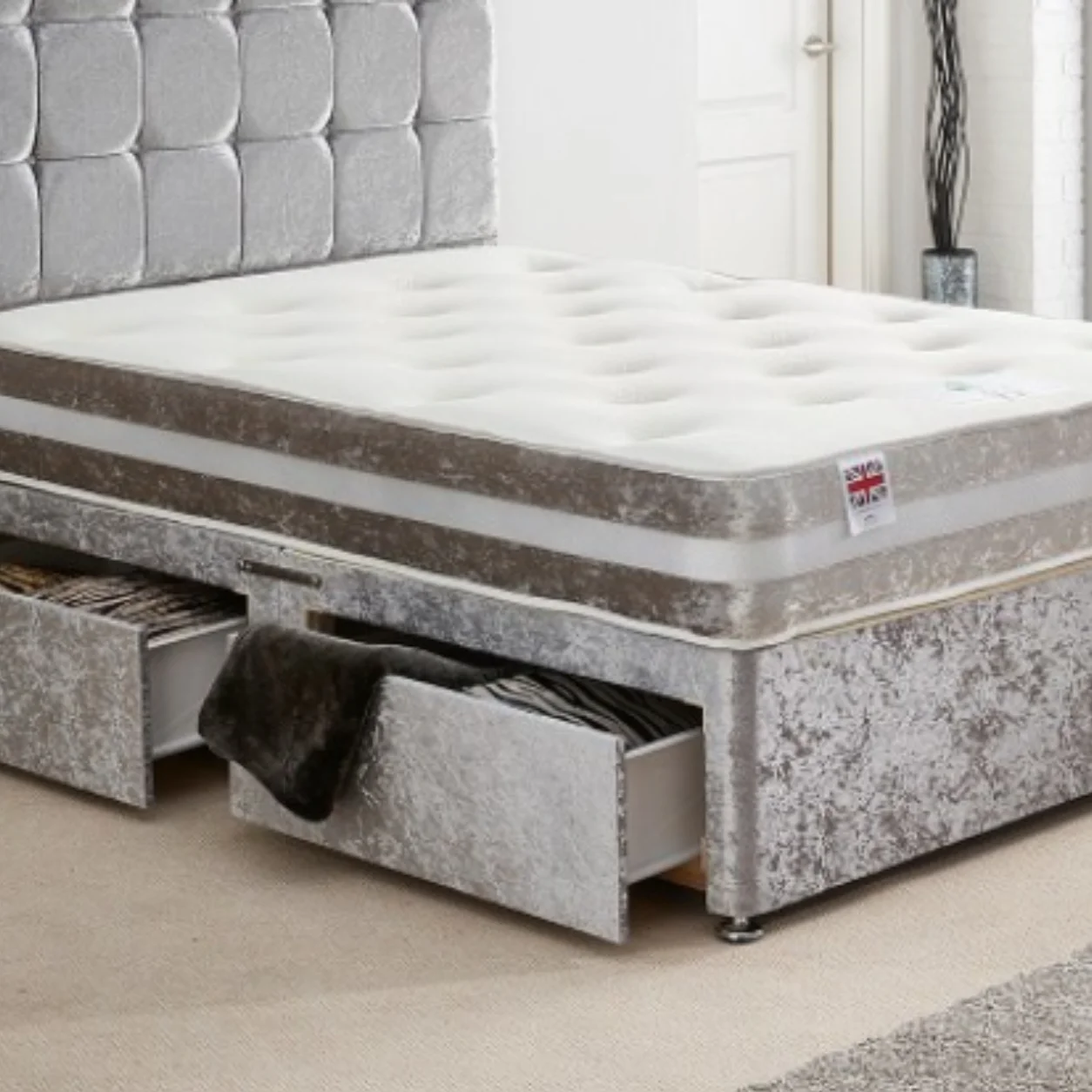 The Gift of the Ultimate Sleeping Experience
This year has been rough on both our body and minds, with countless hours of worrying about our loved ones, news updates and the spread of COVID we may have lost out on multiple hours of sleep this year due to stress and anxiousness. A new mattress could be the best gift investment to improve the people you love's quality of sleep and life in 2021, allowing them to drift off in peace and comfort. Here at Next Divan, sleep is our speciality and we have a few mattresses in mind to give the gift of a good night's sleep to your loved ones this year. 
Is there someone in your life constantly complaining of back pain? A new mattress could be the answer to all their problems, leaving them leaping into 2021 with a better back and a spring in their step. Our Ortho Support Quilted Dual Sided Orthopaedic Mattress offers extreme comfort thanks to its 12.5g orthopaedic springs, duo pad and good firmness and could really improve that special someone's quality of sleep and life. 
For the sporty ones on your Christmas gift list this year, our Pure Relief Memory Foam Mattress range would be perfect to take the edge off those aches and pains after training while they sleep. Alternatively this would be perfect for those older people in our lives who may suffer from joint and muscle pain, even arthritis, this could give their body the relief it needs daily, with its memory and reflex foam this bed takes the pressure of the body where needed. 
Maybe there is someone in your life who loves to be eco friendly and is in need of a new mattress for 2021, Our Silk 2500 Pocket Sprung Natural Filling Mattress would be a great gift for them. This mattress is filled to the brim with everything you need for comfortable night's sleep, featuring a 2000 pocket spring core, 250g grams of natural wool and 750g of recycled polyester.