Comfort is a highly personal and subjective thing - there is certainly no one-size-fits-all solution when it comes to choosing a mattress! We find people have numerous facts – as well as myths – about what kinds of mattresses offer the best support and comfort. Everyone has a different view and a different way in how they sleep and what they prefer.
To help you make the right decision in choosing the right mattress, we've put together this guide, where we detail everything about mattress firmness so you know how to choose one that's perfect for you.
To adapt an old saying, one person's firmness is another person's agony. In other words, mattress firmness is very much a personal decision, which should only be based on your own comfort and support needs. 
If you are sleeping on an unsupportive mattress, you can expect to experience back pain which worsens over time. Conversely, finding the perfect mattress will promote the right sleeping posture, relax your muscles and facilitate a quality sleeping experience, night after night. 
In addition to minimising back pain, a restful night's sleep is a key element in enhancing the quality of your general health and well-being - absolutely essential for a full and satisfying day.
Types of Mattress Firmness
It can be overwhelming sometimes to decide what level of mattress firmness is best for you, given the confusing range of options available.

There are just a few main categories to make things easier:
Soft or soft-medium is perfect for those who have a slight build or weight or for those who do not suffer from back problems. These mattresses offer more of a sink into them, for those that prefer softer support.
Medium firmness is the most popular choice for our customers, as it is suited to most body types and offers a good balance between firm support and softness.
Medium-firm is ideal for any couple finding it difficult to choose between a medium and firmer mattress. This option can also benefit those who suffer from back pain if combined with a solid divan base, being a touch firmer with a little extra support.
Firmer feel mattresses, often referred to as orthopaedic, are ideal for those who prefer a more solid, supportive surface. Some may not like these types at all as they can feel flat, but offer excellent firm support for the back, spine and shoulders.
A firm feel is recommended for those with back problems, as well as being suitable for those with a larger build.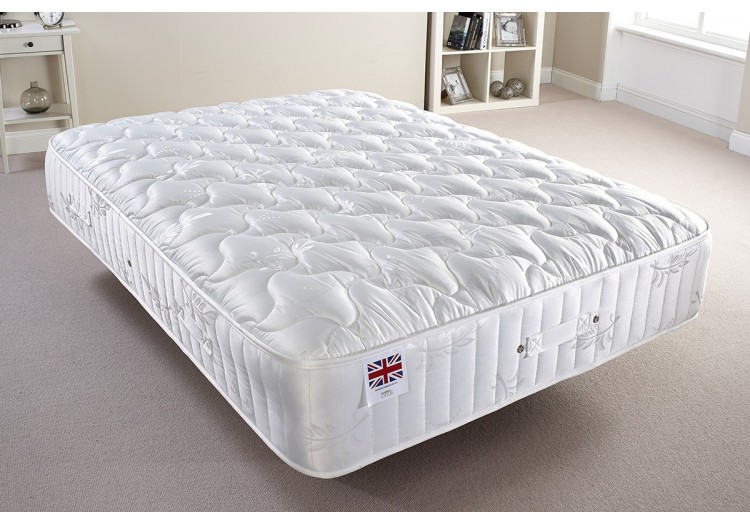 Why is mattress firmness important?
A good mattress will support your spine's natural curve, while aligning your head, shoulders, buttocks and heels, offering comfort and support so you wake up feeling refreshed and ready for the day. If your mattress is unsuitable for your posture and support, then you can expect to wake up with back and joint pain, so it's essential to ensure your mattress is right for you.
Overall, the bones absorb much of the pressure on a firmer surface, meaning there is less stress on muscles, veins and arteries, which in turn results in less strain and improved circulation. 
Firm mattresses also prevent the lower back from collapsing, as well as distribute body weight more evenly, which relieves pressure points.
Choosing the right mattress firmness for your body and comfort will ensure that your body is well supported in the right places, and your bed is a place of rest, rejuvenation and relaxation.
Mattress types to suit everyone
Next Divan was founded on the principle of making a great sleeping experience affordable to everyone, and our mattresses are a leading part of this principle. We pride ourselves on offering a wide range with a choice to suit everyone, whether you prefer a soft, sinking mattress to slip into, or a cushioned, firm mattress that offers excellent spine support.
Take a look at the range we offer and get in touch with our team today if you have any questions at all, we will be happy to help.