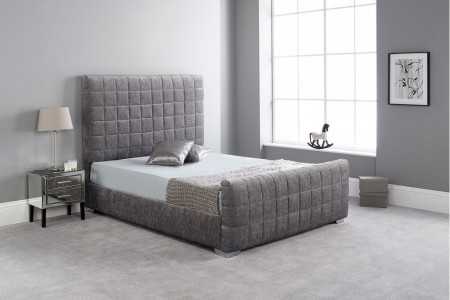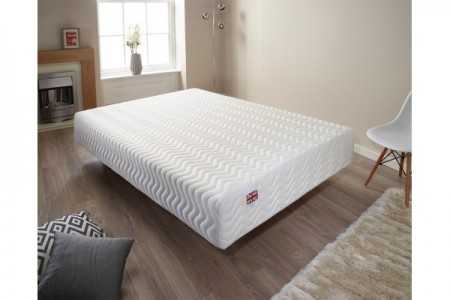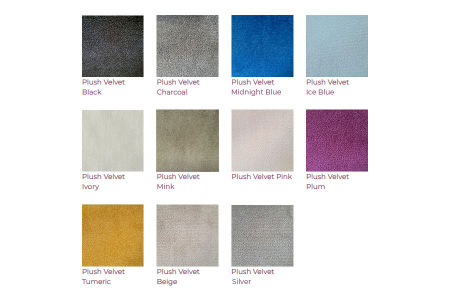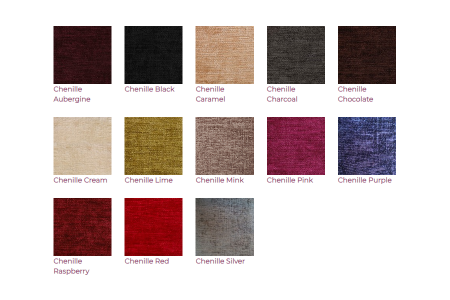 Hand Crafted Upholstery Bed Full Bed Set
Our hand crafted upholstery bed set comes in a variety of fabrics and colours. This item is available in a frame only option, or full set set as displayed here. 
This hand crafted upholstery bed frame comes in a variety of fabrics and colours. The ottoman comes with chrome effect easy to install sliders. 
This upholstered bed frame comes in chenille and plush velvet fabrics.
Chenille offers a great woven look that can look perfect in any room.
Plush velvet is soft yet very hard wearing which can help with increasing the lifetime of the bed frame.
Complete with 20cm Deep Memory Foam Mattress
The Pure Relief is a high-end mattress comprising of memory foam and reflex foam designed to give maximum body support where needed most, particularly to the spine and back. It is finished in a quilted fabric to provide a comfortable feel and air circulation while sleeping, allowing you to enjoy a pure relief sleep sensation. This will come roll packed ensuring a smooth transition into your home.
Colours

Blue Beds
Cream / Browns Bed
Grey Beds
Other Colours Beds
Pink Beds
White Beds

Bed Size

Double Size Beds
King Size Beds
Single Size Beds
Super King Size Beds

Fabric

Chenille Fabric
Plush / Velvet

Mattresses

Memory Foam Mattresses
Reflex Foam Mattresses

Mattress Firmness

Medium Firm

Mattress Feature

Vacuum Rolled Pack

Upholstered Bed Frame

Bed Frame with Mattress
Thank you
Thank you
Great
Delivered on time. Recieved email during the day with time slot and it arrived in that time slot
Great Product
Great product great service from Next Divan and the delivery men will recommend and use again
Thanks
Absolutely fantastic beds had two will be getting another, thick mattress very pleased
Comfy sleeps.
Ordered this bed and it arrived on time to the slot given so 1st class for that. 1 marked it down 1 star because when I came to fix the headboard to the devan 1 of the bolts had come loose and was rattling around inside so I had to un-pick the staples underneath to place on the bolt Wasn
Thank you.
Bargain buy compared to prices we looked at elsewhere on the net. Thank you