Creative children's bedroom ideas
Your child's bedroom holds an extremely important role within their childhood, it is the place in which they reach the next milestone of their life by sleeping alone, as well as the place in which they experience their greatest adventures through countless hours of imaginative play. 
However, we understand that decorating a child's room is not easy work as there are many aspects to consider from colour to storage. For this reason we have devised this simple guide in creating the bedroom of dreams for your little ones!
Your inner child can be set free when designing a kid's bedroom, so let your imagination go wild with bright colours and playful textures! If there is a particular colour or theme that your child adores, use this as your inspiration, but try to mix themed features with neutral and long lasting pieces to ensure the room will be cherished for many years to come. 
Here are some of our favourite themes:
Wildlife Safari - embrace elements of the wild world into your colour scheme by choosing calming green tones for the wall paint. Contrast these muted tones with animal printed bedding and photo prints. For primitive textures mix in a faux fur rug, which can be a soft play area, as well as jungle leaf foliage. 
Pretty in Pink - a fun way to add a touch of pink into a girl's room is by designing a candy cane striped feature wall. This is easy to do and can be a DIY task to enjoy with your daughter, simply section a wall into equal stripes and alternate between pink and white paint. Contrast this bold focal point with timeless furniture and delicate textures such as lace and voile.
Children's bedroom furniture must be two things: stable and snug. A well designed bed frame will encourage your child to want to go to sleep at night, through inventive design a bed can easily become a castle to climb at night and snuggle up safely to sleep. 
A high sleeper bed is ideal for young children when looking to optimise space. It is a long lasting piece which can be used from their toddler years, where the space is used as a play area, to teenage years when the space can double up as a study space. 
Additionally, divan beds work perfectly for children who have too many toys and not enough space. Under-bed storage is a quick and easy way to keep a room tidy and to avoid it becoming a hazardous mountain of toys.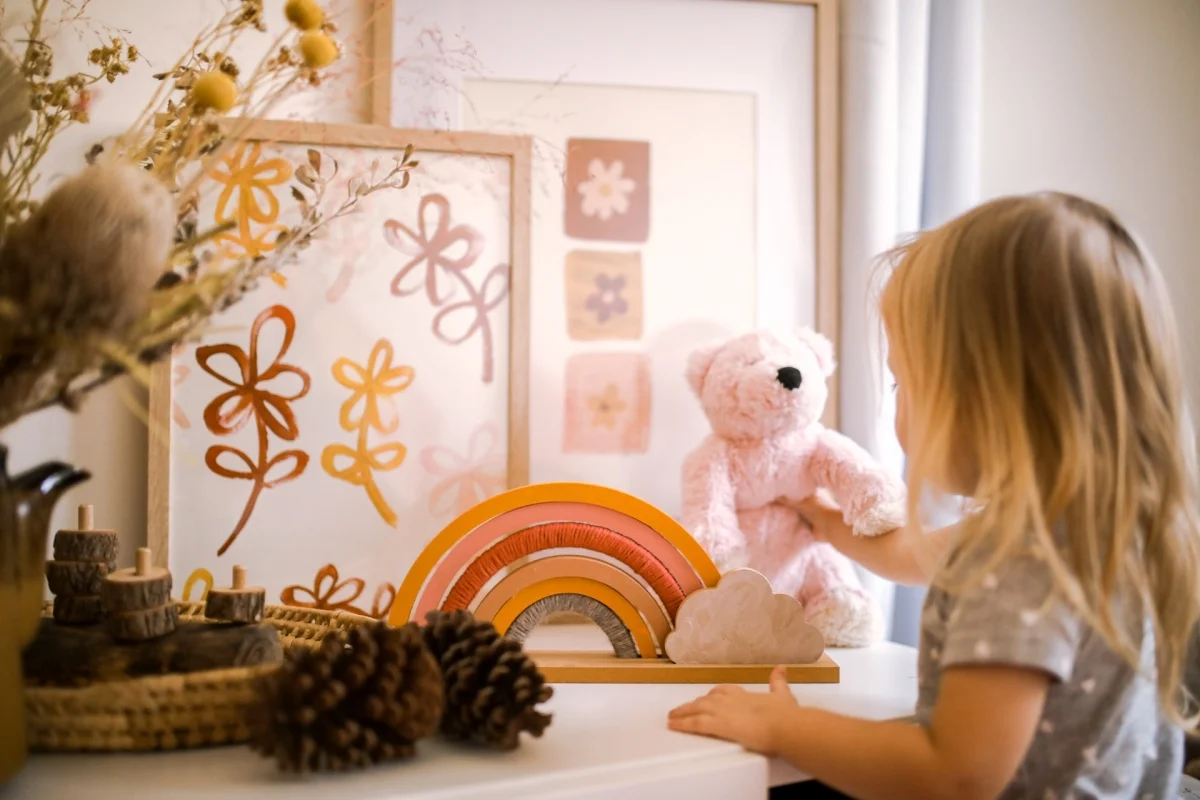 In terms of comfort, the right type of mattress is essential for a good night's sleep. A good mattress should provide support to your child's developing body over the years and must maintain its comfort as they grow. Mattresses which contain natural fillings are also a favourite for many parents as they avoid early exposure to harmful chemicals present in other bed products.
We recommend our Next Divan 'Silk 2500 Mattress with Natural Fillings Mattress' for a guaranteed good night's sleep.
No matter how big or small the bedroom is you can create a dedicated area for reading and imaginative play, sometimes the smallest of spaces can feel the most special to a child! Find a corner to transform into a mini library or spot to snuggle, cover the floor space with a soft rug and fill the area with your child's favourite toys and books. Adding a calming light will encourage your child to independently read or add a blackboard with chalk to influence creativity!
What are your tips and tricks for imaginative bedrooms on a budget?