Can a Christmas bedroom boost your mood and sleep health this season?
It's the most wonderful time of the year! From putting up the Christmas tree to preparing in small ways for the big day, all of these moments help promote positive endorphins, but what causes this? And how can we introduce more festivity into our bedroom to improve healthy sleep? 
In this week's blog, let's explore the reasons why festive interiors boost your mood and sleep health, and what the feeling of festive spirit is.
What is the feeling of the Christmas Spirit?
"The best way to spread Christmas cheer is singing loud for all to hear", this famous line from the movie Elf, refers to the feeling which we feel around this special time of the year. This feeling is the pure feeling of joy, happiness, warmth and magic. 
A 2015 study from the University of Denmark had proven evidence of how Christmas cheer appears in the brain. 20 people were shown images of either a Christmas or non-Christmas theme whilst having a functional magnetic resonance imaging machine monitoring their brains. The "FMRI" machine highlights parts of the brain where there was an increase or decrease in activity in specific regions. When the subjects were shown a Christmas image the FMRI also lit up with Christmas spirit from a surge in activity! This study allowed researchers to essentially find the hub of the Christmas spirit in the brain and theorised that this network of activity in the brain could be related to memories and spirituality linked to this special time. 
How can the Christmas spirit improve your sleep?
A happy mind means happy sleep! And as proven above in the study, Christmas memories mean happy brain activity. Introducing a little Festive spirit to your bedroom during this time will positively impact your sleep quality, dream activity and morning wake-up mood. 
However, be careful not to indulge in too much Christmas spirit, as festive foods, alcohol and anxieties around this time can be very tough on your sleep routine. For example, Christmas foods tend to be very high in sugar and saturated fats, which causes spikes in blood sugar levels, which can negatively impact your quality of sleep. Too much alcohol in this time can be hard to dodge with regular festivities, which can lead you to become dehydrated throughout the night and damage your quality of sleep throughout this time. Our advice is, to take it slow, know your limits and enjoy Christmas with as much rest as possible after a busy year.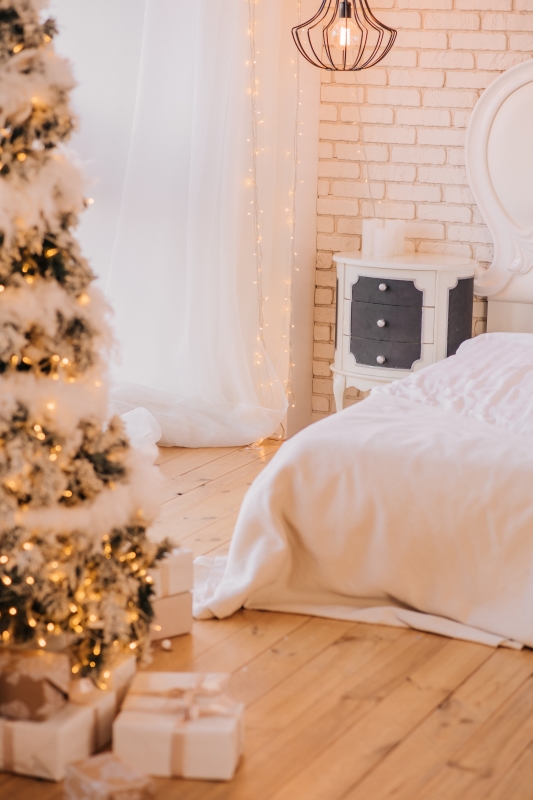 Add a Festive Touch to Your Bedroom
Adding small doses of Christmas spirit can be easily achievable today with so many discount stores now offering affordable touches to add to your home and bedroom. The smallest additions of festive LED lights, small ornamental pieces or even hanging a stocking can add that spring to your step during the festive period. 
If you are feeling extra festive this year, you can even add a Christmas tree to your room. This is easily achievable with a simple tree and your own choice of decor. You could even take up this opportunity to try something unique and away from the traditional style of Christmas trees represented during this time, which feature greens and reds. Try stepping out of the box with a coloured tree, red, white, pink or even black! Decorate the tree with alternative decorations and unleash your personality to introduce cheer and happiness to your life. 
You can even take the bedroom festive interior one step further and add a seasonal headboard to your interior collection. Headboards are a great way of switching out your seasonal styles. Here at Next Divan, our beautiful range of hand made, affordable yet high-quality headboards are easy to install and perfect for switching up your interior style. 
The Wonder Headboard, brings the "wonder" of Christmas to life in your home, especially in our beautiful, rich Chenille red fabric. The Wonder Headboard incorporates comfort with a sleek upholstered design, finished off with studded detail to add to the modern uniqueness this headboard has to offer.