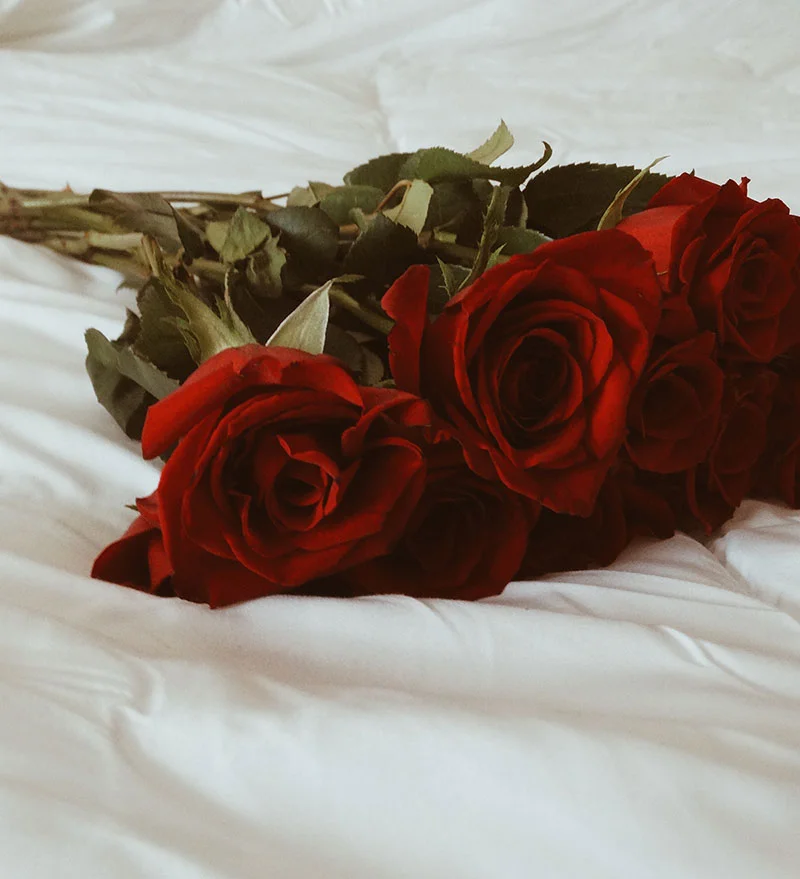 Fall back in love with your bedroom design.
Valentine's Day is just around the corner so why not set the mood and add a touch of love into your bedroom?
Maybe you have a hot date to prepare for, or you are staying at home with your 'galentines' or perhaps you simply want to fall back in love with your bedroom again. There are subtle changes that you can do this Valentine's to ensure that love is in the air on February 14. 
1.
Think pink!


Adding colour into your interior design is an effective way to lighten your mood when you step into the room. Pinks and red shades are often associated with valentines and generally, the theme of love. So, if you are lacking in passion towards your home it could be a good idea to incorporate these sensual and feminine colours into your bedroom. 

A great idea could be to add a subtle, pink shade, upholstered headboard to give your room a focal point. Using an upholstered bed frame is also helpful when deciding upon your colour scheme as you can use this as guidance when tying in other coloured products. 

Go pink with your bedding, throws and cushions if you are looking for a cheaper upgrade. Choose satin and silk fabrics to feel extra special this year!
2.
Allow at least 30 minutes of 'me time' before sleeping.


As a population of device obsessed people, we sometimes forget to switch off. It is important to allow a part of your day which to be completely dedicated to yourself, and a moment in which you are not thinking about those work emails that you forget to reply to. 

Research shows that using an electronic device before to sleep is harmful for your natural body clock, this is because they reduce the amount of melatonin that is released - making it more difficult to sleep. 

We suggest finding a book that really hooks you so you will be excited to get under the duvet and truly turn off and relax with a book in hand. 
3.
Create a stress free zone


If you enter your bedroom and see a mountain of clothing piled up you will instantly want to avoid it. To fall in love with the space - there needs to be space! 

Create an easy organisation system that you can make your daily routine. A simple way to achieve this is with Next Divan beds, which provide an under-bed storage area. It is helpful to plan one day, every three months, to organise your clothing because as seasons change so do our wardrobes. 
4.
Let's talk wellbeing!


Improving your health and wellbeing is an effective way to increase your desire to go to sleep. Being active is good for your mind and body because you are keeping fit but also keeping your mind busy away from worried thoughts. After a strenuous workout you will be ready to doze off immediately. 
5

.

Treat yourself 

Valentine's Day is often accused of being a commercial effort to sell any heart shaped product that we can find. However, we believe you should take this as an opportunity to treat yourself! 

If you are wondering how to treat yourself at home...a new mattress is a worthwhile purchase to ensure a better night's sleep. Figure out what level of comfort and support you need to understand what type of mattress is best for you!

Which bedroom ideas do you love?
Comments (0)
No comments at this moment