Ever wondered what goes into making our luxury, handcrafted bed frames? Our new blog has all the answers!
All of our beds are handmade here in the heart of Yorkshire, and we take great pride in the process of hand making every single aspect of our luxury divan and ottoman beds. From upholstery to ottoman hydraulics, this week's blog covers every step in the making of a Next Divan bed. 
At Next Divan, our aim from the very beginning has been to make a great night's sleep affordable for everyone to achieve. Ever since our humble beginnings, we have gained the trust and happiness in our customers, and have provided a handmade bed to many over the years to transform their sleeping experience. 
The first part in our process is making the actual bed frame, a solid frame to last you a long time and provide sturdy comfort over the years. We use high quality wood that supports mattresses without making creaks as you sleep, and is then covered with foam and your material of choice to add style and comfort. We also add storage options of choice to our bed frames. We add storage drawers where requested and we also manufacture ottomans at our Next Divan factory, providing comfort and storage for homes across the UK. 
Our Aston Foot End Opening Gas Lift Ottoman bed is a prime example of our highly skilled craftsmanship. With its matching upholstered head and footboard, plus its practical foot end opening ottoman it makes the perfect, practical yet luxurious addition to your home. 
Headboards and Upholstery
At Next Divan, a hand upholstered headboard is the cherry on top of the perfect bed. All of our headboards are hand upholstered with high quality fabric and foam, to create a stylish, comforting finish. We have a team of highly skilled and professional Yorkshire craftsmen, who pride themselves on making the most luxurious designed headboards and beds.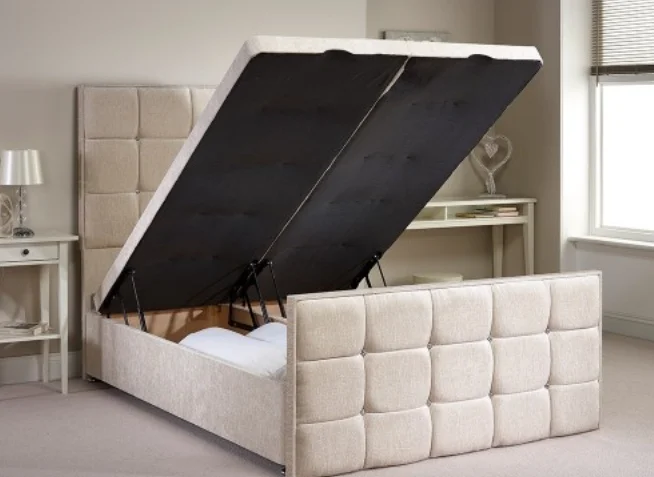 The pattern of upholstery differs for all of our beds and headboards here at Next Divan, the choice is completely yours and we are certain to have one to suit your interior style! Our headboards are made with high quality foam and fabrics, which are sewn onto the frame, and patterned usually with buttons or diamond detail.
We have a huge range of fabrics to cover everybodies style to create their dream bed. Our fabrics come in many different types and shades, such as Linen, Faux Leather, Crushed Velvet, Plush Velvet and Chenille. Our shades range from neutrals, to dark aubergines and blacks, to even bright blues and pinks to make a statement! There is nothing we don't cover to make your bed dreams a reality.