Sleep better with an aloe vera mattress
At Next Divan we are lovers of sleep and so we are continuously innovating to provide the best products, which can ultimately enhance the quality of your sleep. By experimenting with new materials and components we are able to create hybrid mattresses that work to fit the needs of a range of different types of sleepers. 
From our sleepology knowledge, we understand the difficulty that many sleepers experience during the night as a cause of skin irritation. This can be a result of many harmful factors including; increase in temperature, non-sensitive mattress toppers and allergies. From this we have designed and produced a soothing memory foam mattress containing aloe vera extract to keep the skin at ease whilst you sleep. 
Aloe vera has been used throughout centuries for its medicinal purposes and is found within many household objects such as washing up liquids to hand creams. However, this plant's origins travel all the way back to the Arabian peninsula, as a result of requiring extremely hot and dry climates in order to flourish. 
The aloe vera plant comes from the succulent family and is famous for it's gel-like leaf tissues.
Health benefits of aloe vera
Aloe plants have been celebrated for their many medicinal benefits for the human body, including:
• Antioxidant properties -  found in both the leaves and flowers help to fight off toxins that may be present in the body and can decrease the chances of inflammation and diseases

• Anti-ageing abilities - the gel is often used to protect the skin from harmful UVB rays which can induces ageing from too much sunlight exposure

• Soothing of the skin - aloe vera is helpful in providing a soothing surface to skin which has experienced second degree burns due to its natural pain relief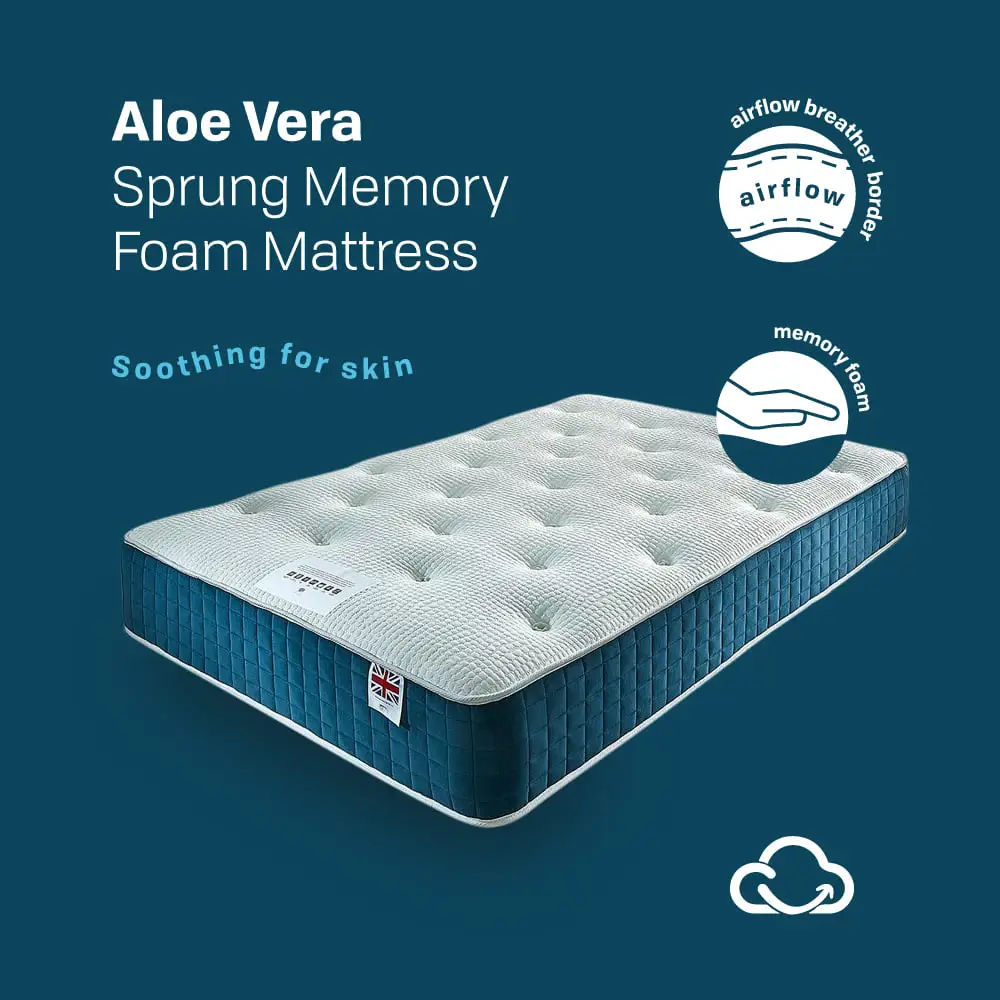 The Next Divan aloe vera range
We have utilised the natural wonder of this miracle working plant in the design of our 'Next Divan Aloe Vera Memory Foam Mattress'. The layers of foam are infused with aloe vera gel to provide the most comfortable mattress for those who often suffer from irritated skin and increase body temperature during the night. It is particularly perfect as the warm summer season creeps upon us!
The top layer comes in a knitted fabric to give a comfortable sleeping surface, whilst the memory foam, open coil springs and luxury fillings work together to accommodate a softer mattress with maximum support.