Headboards with a wow factor
Headboards that turn heads
If you have been scrolling through your social media for the past few years, you will have seen that upholstered headboards and beds have been massively trending! The world of online interior design trends has seen that upholstered headboards are a quick fix and upgrade to refresh your living space. Here at Next Divan, we have a beautiful, handmade range of all different styles of headboards to suit every style!
Simple yet Effective Headboards
Our Doll Headboard is designed to be a simplistic yet stylish addition to your home, with a plain non-upholstered front, this headboard is a perfect, comforting update for your home! Available in an array of beautiful shades, this headboard is great for making a simple statement with a pop of colour, allowing you to fully display one of our high-quality fabrics as the full focus of this headboard. 
Looking to make an understated statement with a touch of class? Look no further than our Eleanor Headboard! This headboard is one of our most contemporary looks yet, upholstered in a panelled design to add a touch of elegance to your bed. The perfect update to add a luxe for less feel to your bedroom, available in a beautiful range of fabric types such as crushed velvet, plush velvet, faux leather and linen!
When we think of classic upholstery styles, we classically refer back to the chesterfield style which has been in style for decades! Constantly making a come-back, the chesterfield design is a great option for a headboard style that never goes out of fashion. 
Our best selling, 5-star customer rated Ziggy bed frame is also available in a headboard! Capturing the beauty of the best-selling bed frame, the Ziggy Headboard is classically based on the chesterfield design, with beautiful, unified upholstered sectioning, for long-lasting style!


If backcare is on the top of your priority list when purchasing a new headboard, then our Backcare Headboard available in both strut and floor standing design, is the perfect fashion-forward comforting purchase to update your bed. Also inspired by the classic chesterfield upholstery style, the Backcare Headboard range will never go out of style and is available in a range of beautiful fabrics as well as the unique addition of diamante buttons within the hand-upholstered detail.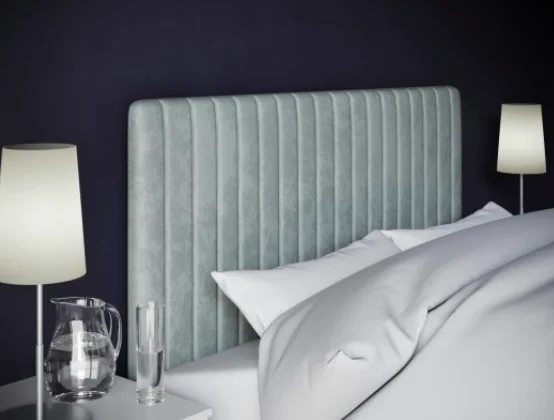 Do you like to live the life of luxury? Then implement this to your bedroom with our extra glam headboards fit for king and queens!
Our Jubilee Headboard is definitely fit for royalty, with its unique hand-upholstery style and diamonte finishing, this headboard is sure to dazzle! Available in both strut and floor-standing options, the Jubilee Headboard can be handmade to suit your home like all of our headboard options, and can be made even more glam with our luxurious coloured fabrics, such as crushed velvet!


Last but definitely not least on our list! The Wonder Headboard is definitely one of our most unique, dramatic pieces with stylish upholstery, incorporating panelling as well as alternating studded detail. This headboard is definitely affordable luxury for less, starting at only £74.60 it is definitely a must-have piece for your home!