Get on side with an Ottoman
Ottoman beds are becoming increasingly popular with customers seeking extra storage solutions for their homes. Inspired by a tradition going back many centuries, these beds include a storage space located directly beneath the mattress and accessed by lifting up a hinged mattress frame, either at the side or at the foot end of the bed.
The Ottoman bed frame design is rooted in history and dates back to the 14th century. Modern-day Ottoman beds include storage space underneath the mattress, which is accessed by lifting a hinged mattress frame with the help of a discreet hydraulic system. This allows you to keep your bedroom visually free of clutter while reclaiming the space as somewhere you can enjoy a perfect night's sleep.
As all our Ottoman beds come with a unique hydraulic system, lifting the mattress frame requires the minimum of effort from you. This means that the storage space underneath the mattress will always be easily accessible.
Depending on your bedroom configuration, you can choose from two different openings for your Ottoman:
Side opening – the bed frame can be fitted to open on either the left- or right-hand side of the bed frame.
Foot end opening – the storage space can be accessed from three sides of the bed.
Foot end opening – the storage space can be accessed from three sides of the bed.
Although the most popular option is the front end opening, the side opening is the perfect compromise between practicality and elegance. A side opening model is so designed that it will steer clear of the headboard during lifting, while preventing the mattress from slipping off its frame. This is why it is the preferred choice for smaller bedrooms with very little space in front of the bed, or when your only spot you have to place your bed is against a wall.
A side opening model can feel much lighter when lifting, compared to a front end opening, because of the location of the hydraulic system in the latter case.
The best side opening ottoman bed is one that will allow you to pair it with a headboard or a footboard, making it look and feel like a traditional bed.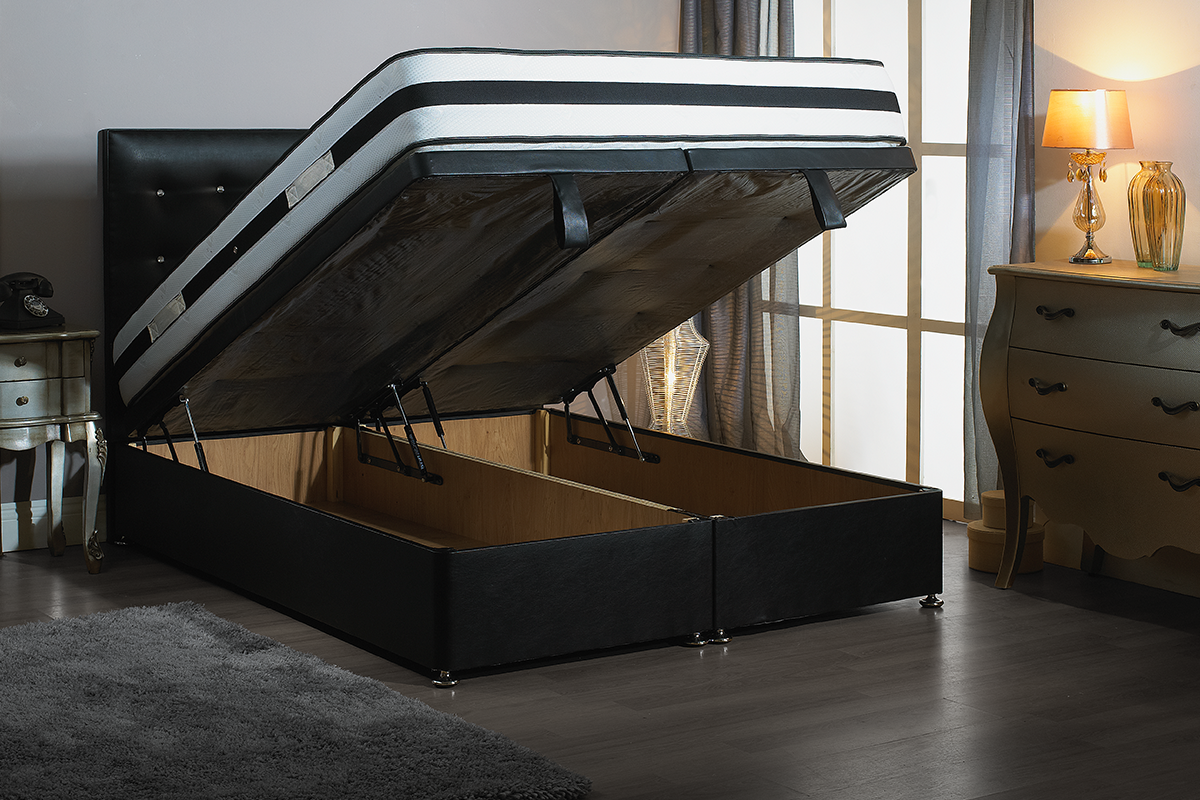 The Next Divan Ottoman range
Next Divan was created with one thing in mind: to make the possibility of having a great sleeping experience affordable to everyone.
You can therefore be confident that we will always help you choose the bed that perfectly meets your needs.
Whatever you are looking for, we offer an impressive range with various designs, colours and fabrics to choose from.
Please browse our website and start to turn your bedroom into your favourite room of the house.
Discover our full range of Ottoman beds here