Your bedroom in need of an upgrade? Discover our new bed range
At Next Divan, we have a brand new website to make choosing the right bed much easier for our customers, but this isn't the only thing! We also have a brand new range of beautiful, handmade luxury beds at an affordable price to help you upgrade your home. 
What's new in Divan beds?
We have 21 brand new, stunningly stylish Divan bed sets for our customers to choose from. With our new build-your-bed feature, you can tailor your perfect bed to your interior tastes, with options such as storage, bed size, and fabrics to choose from. Watch your bed come to life with our latest technology which features in the build-your-bed feature!
One of our new, personal favourites is the Galaxy Divan Bed which conveniently comes with a Bonnell Sprung tufted mattress. This bed set is up there with our favourite because of the beautiful, hand-upholstered detail that goes into this headboard. This headboard stands out with its different quilted patterns, ranging from small to large which creates a stylish effect unlike any other. We especially love this bed in the Charcoal fabric, as it adds to the sleek edge of this must-have bed!
A new design to hit Next Divan is the Platinum Divan bed, which also comes with a fabulous 3000 Sovereign Pocket Memory Mattress! This bed replicates that of a rising sun with its unique, artistic upholstery. The rays that perfectly stand out as part of the headboard are a new design to hit Next Divan, this bed is sure to set trends with its mixture of beauty and practicality. This bed is especially beautiful in our bright linen beige fabric to match the design of the headboard.
If you are looking for something a little more understated and classic, then our Olive Divan Bed with 3000 Sovereign Pocket Memory Mattress is the one for you! The upholstery of the Olive Divan replicates the classic chesterfield style, with its classic squared upholstery design this Divan makes a subtle yet elegant statement in any home! We think this bed looks great in our linen grey fabric!
Our Divan range is vaster than it has ever been, we have something for everyone in this range with our wide range of upholstery styles, storage options, bed, mattress sizes, and fabric shades at amazingly affordable prices!
A classic and well-loved bed we have here at Next Divan is our Ziggy Ottoman Bed! This bed matches style with practicality and is truly a must-have piece for every home. This bed is a mixture of stylish, classic upholstery, high-quality craftsmanship, and the practicality of the ottoman feature for storing away all of those pesky things lying about the house. Ottomans have especially risen to popularity in the past few years, as they help store away clutter such as seasonal wardrobes, decorations, travel accessories, etc.
If you loved the sound of our Platinum Bed as a Divan, you will love it as an ottoman! Not only is this bed one of a kind here at Next Divan, but it can also be made to offer its unique beauty as well as storage to suit your needs. You can choose from either a foot end or side opening ottoman, to suit your room layout for easy siding.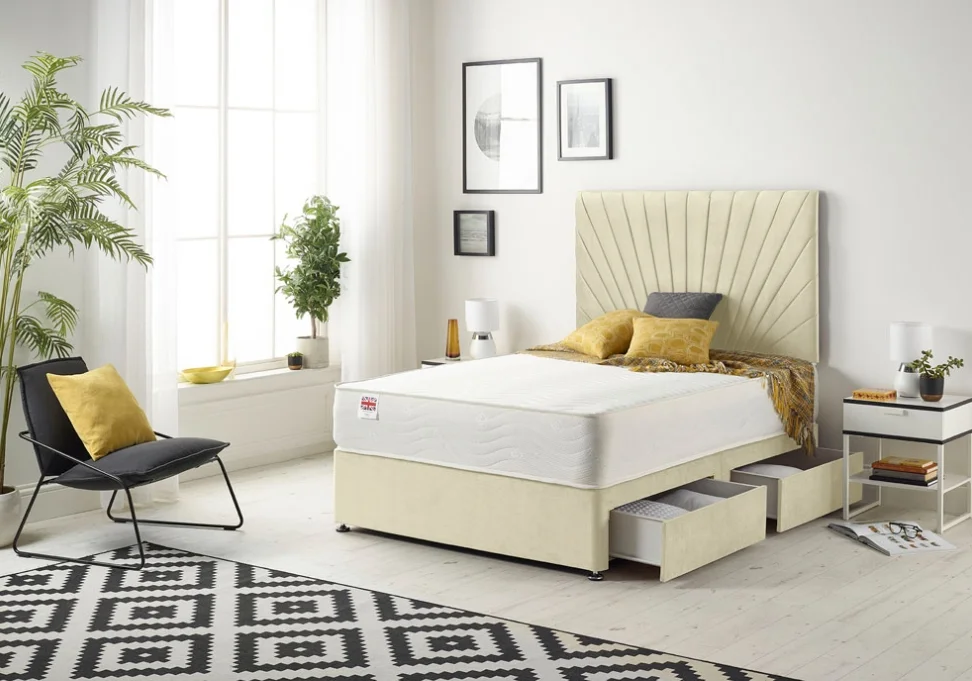 Looking for something a little more luxury with practicality in one? Our Premium Ottoman is made for you! This bed is luxuriously hand upholstered, with a classic chesterfield design. This elegant style holds a secret space for all of your unwanted mess to make your bedroom remain high-class! 
Just like our Divans, all of our ottoman beds are available in a variety of high-quality fabrics and shades to suit your style.
Mattress to complete your sleeping experience
At Next Divan, we believe that an amazing mattress is a cherry on top of any bed, no matter the style. A great mattress has the important job of making you feel supported, comforted and of course, refreshed! Our new Divan range conveniently comes with a range of mattresses to choose from, but we also have some great mattresses to pair with your ottoman or to refresh your old one at home!
Our Deep White Memory Foam Vacuum Roll Pack Mattress is a staple for a good night's sleep. This mattress is made up of the latest generations of foams, designed to improve airflow and maintain a comfortable sleeping temperature and eradicate overheating. This mattress also features a zoned support system to support your body and offer pressure relief where needed across core points in the body. 
The 3000 Sovereign Quilted Pocket Sprung Memory Foam Mattress, features in a lot of our new divan bed sets but is also great on its own. This mattress contains a supportive pocket sprung system and comforting 2.5cm of memory foam to make a combination that creates the ultimate sleeping experience. This mattress also has cool-touch properties to help you keep cool throughout the night.