A guide to a luxury bedroom with the help of Next Divan
With the recent announcements in the UK, it is beginning to look like good things are on the horizon. It's time to spruce up your home just in time for guests to visit this summer, to achieve an element of escapism for you and those around you. 
Not everybody will have the luxury this summer to go on their annual summertime travels, so now is the perfect time to treat your home to the makeover it deserves. It has been over a full year now that we have seen the same walls, day in and day out due to the lockdown, let's start the route to normality with a change of at-home scenery. Let's make our bedroom the haven we need after the long days ahead of us, by adding a hotel standard luxury feel.
Think of the best hotel you have ever stayed in, what made it special? Was it the bed, the linens, the views, the atmosphere? The main focus of a hotel room is always the bed and the view. When searching for your perfect holiday destination, the bed is an important asset to take into consideration as part of the hotel room, comfort outside of your home is vital when staying elsewhere. The best hotel room beds are often grander than usual, with high quality upholstery and a cloud-like supported mattress, to make guests yearn to return.
Here at Next Divan we make stand out beds! Designed with comfort and luxury in mind, we have an astonishing range that will help you achieve that luxury, 5 star hotel look. One of our best selling beds, the Pembrook Gas Lift Side Opening Ottoman Bed, offers everything you would need in a piece of furniture to inject luxury. With its grand, hand upholstered, diamond detailed head and footboard, this bed is sure to give a decadent look to any room. 
Another bed in our range that offers a grand yet comforting vibe, is our Calvin Fabric Upholstered Bed Frame. With it's simplistic yet classic upholstered style, this bed is well suited to that of a luxurious, relaxing hotel room. 
All of our beds are available in a wide range of fabrics and shades to choose from, you can create your perfect bed with size, fabric shade and storage options available. Next Divan is the number one place to go to when creating your dream luxury bedroom.
One thing we miss when we come home from our holidays, is the quality of sleep we experience on the comforting hotel mattress. It makes you realise that there is support missing from your mattress at home. Make the decision to add that same comfort to your bedroom, not to just create the same hotel atmosphere, but for your health. We recommend our 3000 Diamond Pocket Sprung Mattress for the perfect night's sleep, with its medium-firm,1000 pocket spring core and duo pad top layer, this mattress supports your body where needed as you sleep, leaving you feeling revived. 
The key to a luxurious space is tidiness. It's important for the room to be clear of clutter and mess for it to feel like a stress free haven. Our range of ottoman beds are a great storage option for those things laying around. For example, you can store seasonal decorations, seasonal clothing, holiday accessories and much more in an ottoman, to keep your space free of clutter.
Having a place for everything is an easy way to make sure things keep organised. It becomes an easy habit to leave things lying around after a long day, and the mess accumulates. Things such as wardrobe/drawer dividers, storage tools,apparatus, and labelled boxes help to keep everything in a correct order.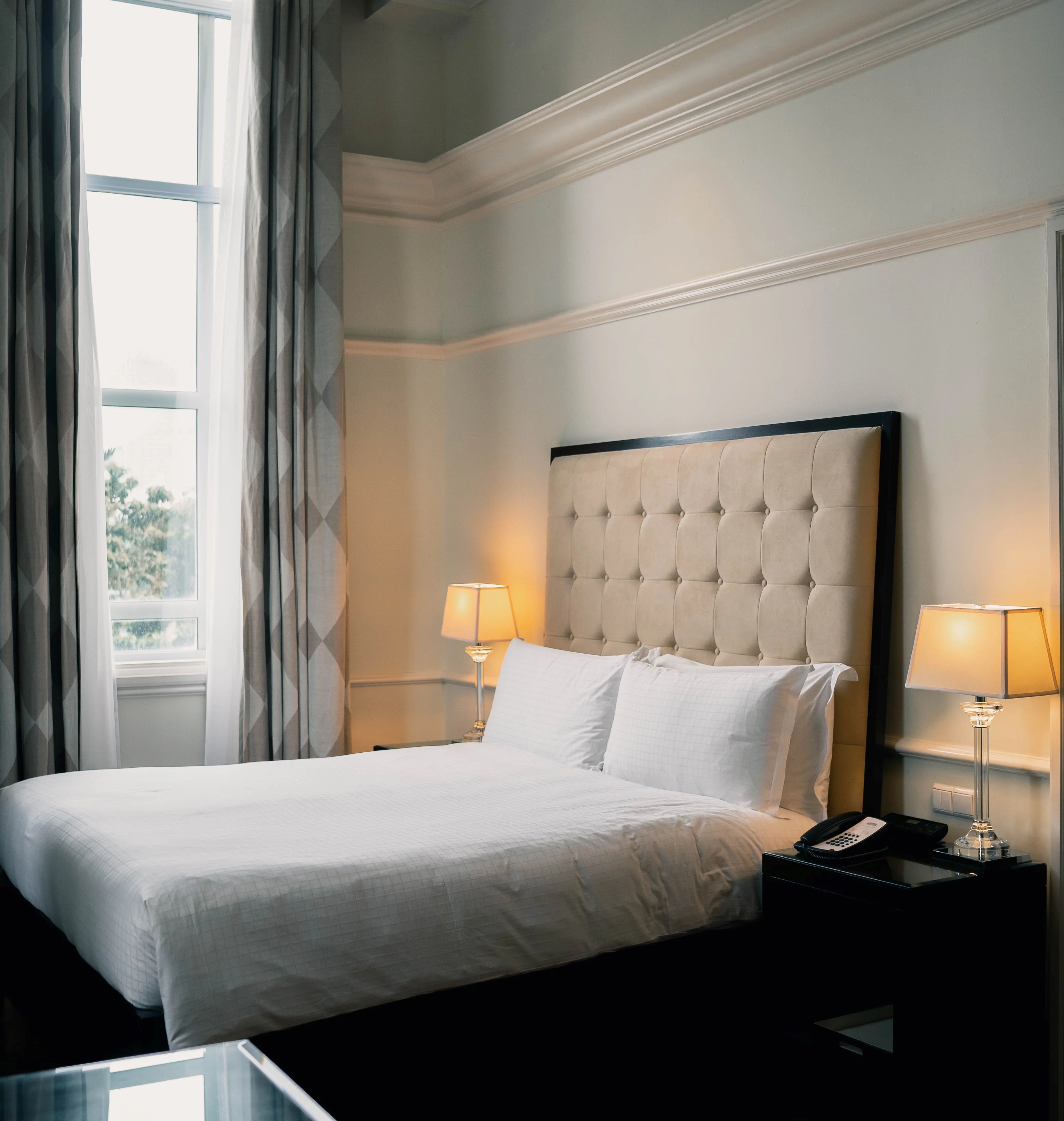 The bed may be the main feature of the bedroom, but additional interior stylings can add a little lustre elsewhere. For 2021 interior designers have predicted that the popular shades in our homes will be earth tone shades, bringing us back to nature and serenity after the whirlwind of a year 2020 was for us all. These shades include, nudes, beiges, japandy themed pinks,auburns and sage green. Take a step out of your comfort zone this year, and inject a touch of colour and life to your bedroom walls to stay up to date with current trends. Try out the statement wall trend, by adding a trending shade to the main wall in your room, and add new life to a bland space. 
Wall art has taken over! And we love it. Simply adding prints to your walls adds a whole new life to a basic room. We absolutely love minimalist wall art, it's classically beautiful and adds elegance to a boring bedroom wall, which is why it has gained popularity as of lately. 
Furniture to match the theme of your bedroom is essential as the aim is the keep one theme flowing throughout the room. For example, a white wooden bed frame and a dark wood wardrobe would not flow and would not give the luxury feel to the room. Parisian style furniture is taking over the homes of interior lovers, with it's classically beautiful charm it certainly gives the luxurious feel to any space..