Take inspiration from some of the best hotel interiors
As homeowners, our bedroom should be a haven away from the hustle and bustle of day-to-day life, and a place to escape. The thought of our bedrooms living up to the standards of a high-end luxury hotel room seems almost impossible, but in today's blogs, we want to show you the innovative ways hotels have made their rooms look expensive for less! 
A standard luxury hotel room is usually clear of clutter and made up of elegant design such as white walls, white bed frame, and sheets, clean cut interior design for both the bedroom and the ensuite! But in fact, the hotels with more flair and luxury have much more intricate, creative and innovative ideas. 
Volkshotel, in the beautiful city of Amsterdam is known for its experimental edge! The 9 rooms in this hotel are filled with unique touches and are all designed in extremely out-of-the-box ways.
Perhaps one of the Volkhotel's most striking rooms, is the "You Are Here" room which is designed simply by adding touches of vibrant lighting around the room. Under the bed is lit, the window is lit, the walls are lit,  all in the most beautiful and obscure ways to create a simple but extremely effective design!
You can easily achieve this luxurious design aspect at home with cheap and effective hidden LED strip lights - These lights come with a remote control so you can tailor the shade and settings to your style! 
The Singita Grumeti, Tanzania, is a beautiful Scandi themed hotel, which has many aspects of interior design inspiration that you can replicate in your home.
The Singita Grumeti is a safari lodge placed just adjacent to the Serengeti National Park and is in the prime location to spot migrating wild animals that once a year make their move from the savannah to the southern plains. Although it may be impossible to spot a pride of lions outside of your bedroom window, there are many features of the interior of this safari paradise you can use in your bedroom to create the same effect. The inside of this luxury lodge features a lot of raw wood materials, with oak king-size beds, basket side tables, and bamboo reeds as a unique wall feature all of which you can create at home without breaking the bank.
Known as one of the coolest hotels in the world, the Hotel Au Vieux Panier, in Marseille France is similar to the Volkshotel, with separate designers decorating the room but featuring more colour and extravagance!
One of its most popular rooms features a huge mural of amazing graffiti. The graffiti cascades from the roof to the wall to a section of the floor, to the curtains, and even onto the bed, almost like a wall plant growing and reaching different aspects of the room. You can easily create this at home by being creative and adventurous with spray paint!
Whether it's a colourful street design, similar to that of Au Vieux Panier or you could even create a minimalist mural, either way, the design will make your bedroom space more exciting and unique to yourself and your tastes.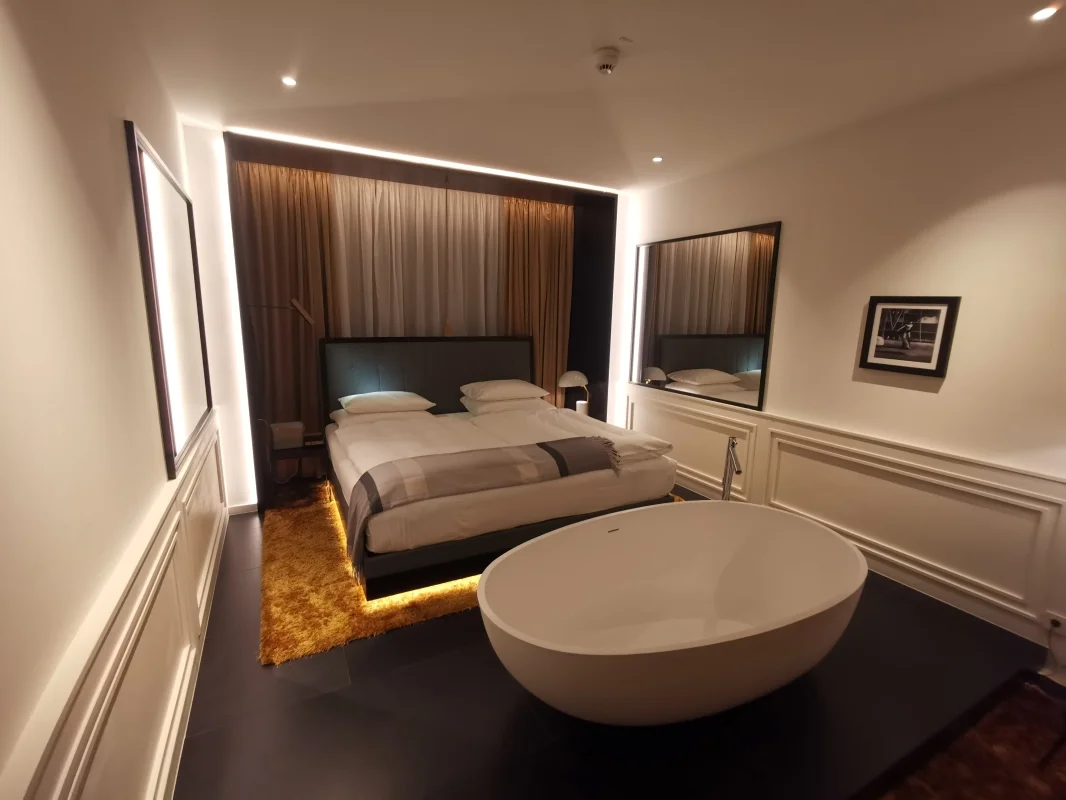 Making your bedroom innovative
There are so many ways you can make your bedroom become a truly innovative space and stand out, whether it is inspiration from the hotel rooms previously visited or something you have seen online or created yourself, the possibilities are endless.
A feature wall is a fantastic way to draw attention to a specific aspect of your room, whether this is the wall where your bed rests or the wall where your vanity is, it is an amazing way of creating innovative designs without renovating the whole room. On this wall you can create a mural, a lights display, you can add textures such as wood or wallpapers to create that hotel from home feeling.
Lighting is a quick and simple way of changing up the atmosphere of your bedroom. Adding different aspects of lighting can add a sense of luxury and a high-tech feel, similar to that of the Volkshotel with simple light fixtures being added underneath the bed to make things seem more luxurious and innovative when it's just a simple addition. 
Finally, there are many small finishing touches you can add to your bedroom that will improve its uniqueness and innovative feel. For example, interesting sculptures, artwork, textures are all simple additions you can add to quickly and inexpensively improve a room.