There was a time when all you could buy were mattresses with two upholstered sides, which required flipping every few months to keep them in peak condition. However, especially since the start of the new millennium, no-turn mattress technology has had such an impact that almost all manufacturers are producing single-sided mattresses, while the more traditional turnable versions are gradually being phased out. In this blog, we focus on single-sided mattresses and discuss their main benefits.
What is a no-turn mattress?
No-turn mattresses, also referred to as single-sided, non-turnable or non-flip, have a single side which is padded or upholstered for sleeping on, while the other side has a plain design with a non-slip surface. They are made by adding various layers of support on top of the base, with the uppermost level upholstered for comfort.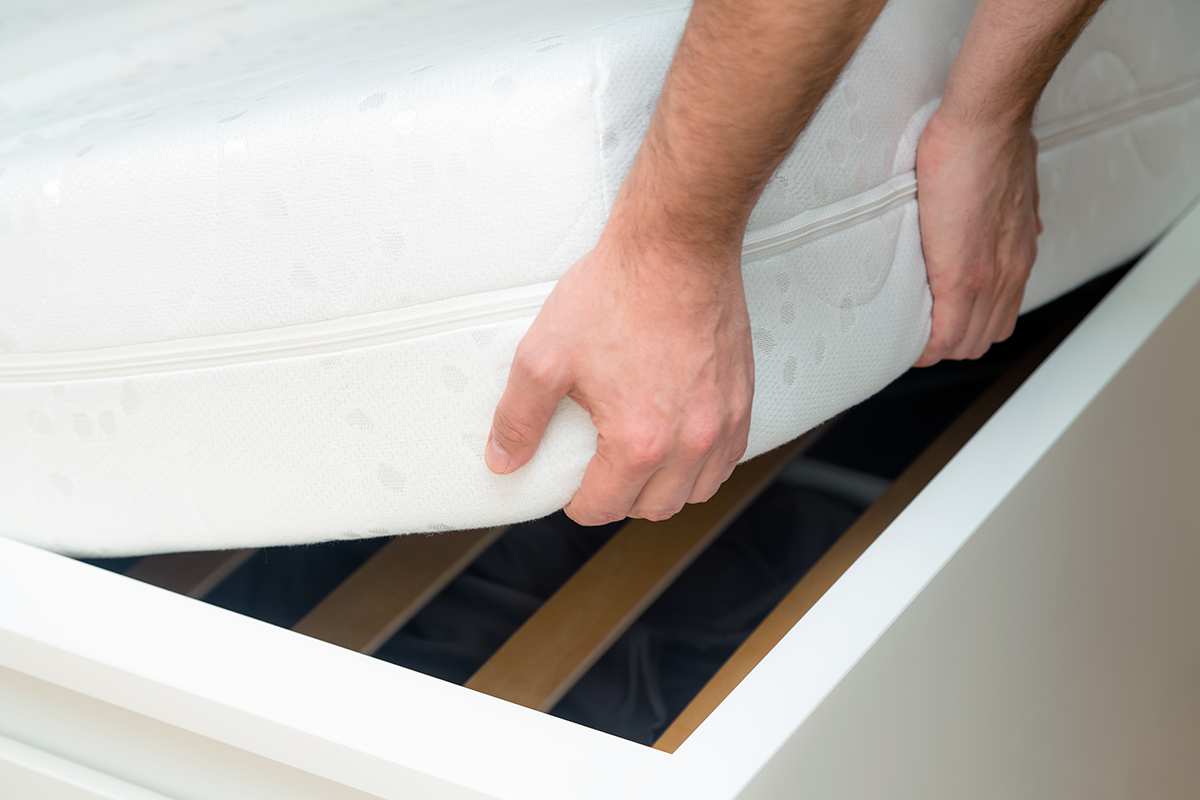 Low maintenance
With no-turn options, turning mattresses is a thing of the past. The comfort layer on top of a single-sided mattress is designed in such a way that is not prone to settlement issues. However, to maintain its durability and performance throughout its life, you should rotate it on a regular basis.
Most manufacturers recommend that you rotate it from head to foot once every three months, ideally at the start of every season. This periodic rotation protects the mattress from uneven wear and tear as well as sagging, especially if only one person sleeps on the bed.
What are the benefits?
As no-turn mattresses do not need to be flipped, maintaining them involves less strenuous effort than double-sided ones, which in turn reduces the risk of an injury. For this reason, they are especially suited to people with limited strength who struggle turning a mattress over.
Due to their innovative multi-layered structure, they typically offer the same level of comfort and support, and can even improve upon it, as more traditional alternatives. Customers now have an unprecedented range of one-sided mattresses to choose from, which means you are almost certainly going to find one that perfectly suits your needs and budget.
Last but not least, the technology just keeps getting better and better. As a result, manufacturers are increasingly using state-of-the-art materials, such as memory foam and latex, which offer maximum durability and comfort, as well as striking a perfect balance between softness and support. In fact, nowadays, the materials used in non-flip mattresses are much more superior to those used in more traditional designs and can last for a very long time.
We are your go-to experts for mattresses
We, at Next Divan, are committed to making a great sleeping experience affordable to everyone. Check out our website today to view our fantastic range of pocket spring, orthopaedic and memory foam mattresses. All of our products are made to the highest standards of quality and craftsmanship, to suit all your comfort and support needs as well as your budget. In addition, we can typically deliver to most locations in mainland UK free of charge.